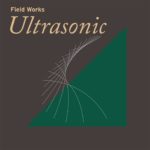 The biography of Stuart Hyatt is an interesting read: artist, musician, researcher. A National Geographic Explorer, focused on 'marginalized communities, at-risk species, and fragile ecosystems'.
Reading this, you'll probably expect to hear exotic environmental recordings, but this is only partly true.
Under the Field Works moniker, his multidisciplinary projects involve other artists to work with his recordings.

Ultrasonic is (part of) a project about the endangered Indiana bat – "perhaps the first-ever album to use the echolocations of bats as compositional source material".
Hyatt recruited a remarkable array of artists to work with his source recordings – and this time I will simply list them all so you can see what a jaw-dropping list this is:
Eluvium, Mary Lattimore, Jefre-Cantu-Ledesma, Machinefabriek, Kelly Moran, Taylor Deupree, Noveller, Christina Vantzou, Sarah Davachi, Felicia Atkinson, John Also Bennett, Chihei Hatakeyama, Ben Lukas Boysen, Player Piano and Julien Marchal.

With a list like this, this album immediately ranks as a no-brainer. And it does not disappoint. In the end, this is a music/soundscape album primarily.
But the ultrasonic signal sounds of the bats (made audible with unspecified techniques) are audible throughout. They define the bat's flight course as well as that of the resulting music.

Each album comes with 'an official printed booklet of The Endangered Species Act of 1973'
---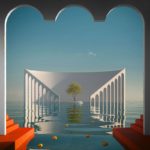 Sascha 'Apparat' Ring is, of course, a well-known name in (German) electronic music. His work is often associated with 'dancefloor-oriented techno', especially for his collaboration with Modeselektor as Moderat, but gradually his interest shifted to more ambient-oriented music: "more interested in designing sounds than beats". Ring is not afraid to experiment when necessary, while at the same time his music stays accessible enough to appeal to a wide audience.

Since 2008 Ring has composed soundtracks for various movies and television series. Examples include Goodbye, used in the French trailer for Rust and Bone, and also in the Season 4 finale for Breaking Bad. Capri-Revolution is the first of a new series of soundtrack works that will be released on his own company It's Complicated Records.

The original score for Capri-Revolution was already written in 2018 but is now re-edited and remixed for this release. Set in 1914, it is the story "of the encounter between a goatherd called Lucia, the commune of young Northern Europeans led by Seybu and the town's young doctor on the unique island of Capri."
Portraying a commune of artists in 1914 would somehow require acoustic music, but Apparat combines them with electronic sounds. the result is a beautiful match – perhaps due to the fact that Sascha Ring also participated in the movie as an actor.
A kaleidoscopic soundtrack with many different moods, fitting well together to create a surprising album. But expect no dance beats here. And don't let the end of Goldkind startle you too much.

Capri-Revolution is a digital-only release, by the way: check here for availability on various platforms.
APPARAT – PAESTRUM NERUVOLA
---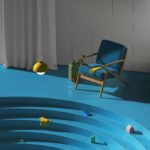 And (painfully rubbing in that I am always lagging behind): shortly before publishing this post the second title in Apparat's soundtrack series was released. Stay Still is the soundtrack for a German/Italian film directed by Elisha Mishto. Don't worry if you haven't seen it yet: the film's release is postponed due to COVID-19 (although the IMDB details and ratings tell otherwise, but OK).

With 29 minutes, it's a relatively short soundtrack for a full-feature film. The atmosphere fits the synopsis of the story:
"Smart and quick-witted Julie is in her mid-twenties. She marches to the beat of her own drum and has her own manifesto: do nothing. And with nothing, she really means NOTHING: no work, no studies, no friends. Agnes is a happy go lucky nurse of the same age. With a husband and a child, she is fitting into society's expectations without giving any great thought to the matter. Until,that is, she meets Julie. Together they start a rebellion that will bring them to the limits of their respective worlds."

Compared to the score for Capri-Revolution, this somehow feels a bit more like a "regular" Apparat release (if such a thing exists) – maybe because of the more pronounced rhythms and the vocal track included (Bad Kingdom).
Movie director Elisa Mishto asked herself if Sasha Ring would be able to put himself behind a movie and not in front. "After all, he is used to being the leader, the one that shows the way and sets the tone.[…] I'm not saying he was perfect. I sincerely considered strangling him a couple of times. But he gave this movie much more than "just" his music."
As is demonstrated by this soundtrack recording, even without having seen the movie.

Also available through Apple Music
APPARAT – MARLENE'S BIRTHDAY