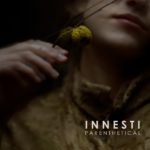 On his fourth self-released album Innesti wanted to 'capture an atmosphere that combines contemporary ambient and the pensive, incidental spaces that helped to define the mood and structure of This Mortal Coil albums from the 80s'.

It's not that Parenthetical has a typical 80s sound: it is very contemporary indeed, and is as much related to the work of Bersarin Quartett (to name just an example that came to mind) as it is to This Mortal Coil. The common denominator here is the flawless, atmospheric sound production.

Parenthetical has such a 'mature' sound, that I find it hard to understand why Innesti has not found a proper label to seriously promote his music. This may very well be due to the artist's personal choice: keeping full control and doing what he wants to do whén he wants to do it.

The downside of self-released music is that too many people may miss it.
The upside is that íf you find it, it feels like you've uncovered a hidden gem.
---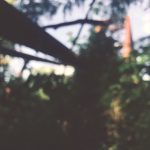 Before you hit the play button below, read this and try to imagine what the music may sound like:
"Perpetual Seeds for Fleeting Time explores 6 unique methods of composition with a unifying thread of present non-dualism and the expounding of heavy emotion through a fluid stream of expressionistic soundwaves." Got that? Now hit Play.
Personally, I have no clue what "a unifying thread of present non-dualism" means, but I cán imagine what "(heavy) emotion through a fluid stream of expressionistic soundwaves" may sound like. And listening to the album confirms my thoughts.
Blanket Swimming is Nicholas Maloney from Jackson Mississippi. He releases his music under his full name and various aliases: the Blanket Swimming alias is reserved for exploring experimental/ambient/and drone compositions. He has released albums under this name since 2015 (four albums in 2019 alone, one of which is Perpetual Seeds..).
The methods of composition on this album include guitar, synth, voice samples, the recorded resonance of rooms, contact mic'd hollow guitar bodies (to pick up external vibrations), and a recorded stream.
The result are (six) compositions that indeed are quite emotional. The extent to which these emotions are heavy or expressionistic (as opposed to impressionistic or introvert) is in the ear of the beholder.
---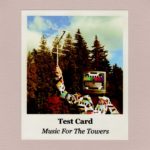 Lee Nicholson (from Vancouver, Canada) has released his music under various aliases, but this is his third full album as Test Card.

The sound on Music For The Towers is extremely relaxed, with an important role for the guitars, embedded in layers of sound with a warm, intimate, somewhat lo-fi 'do-it-yourself' atmosphere. At times, the looped guitars remind of the early Fripp & Eno tape loop experiments, but the atmosphere is brighter here.
Music like a warm summer breeze.

As usual with the releases on the Sound In Silence label, the CD-version of Music For The Towers is released in a hand-stamped cardboard cover. Download code is included with the CD release, but can also be obtained separately.
---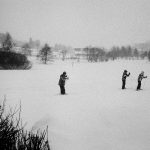 To be fair, this is not a new release. Domestic Tapes Vol.II was previously released on the Laverna (net-)label and later on Discreetrecords. The original recordings date back to 2009/2010.
But, as with many of the releases on net- or small labels, there's a possibility that you missed this release originally. Which was the reason for Secret Press ("focused on mind-altering ambient music and meditative drones") to re-release it, remastered, and with a bonus track (aptly called 'lost track').

There's not much information I can tell about Saverio 'Leastupperbound' Rossi. It seems Domestic Tapes Vol. II is his only solo release (even though the title suggests otherwise), apart from an album collaboration with Enfants Perdus ánd a track on the Underwater Noises compilation from 2010.

It's not difficult to hear why Secret Press chose to rerelease this album: it is a refined collection of ambient music that stood the test of time and is still a very pleasurable listen. Due to the variation in sound using piano or guitar as solo instruments over the electronic soundcapes – but also due to guest appearances of Enfants Perdus and Attilio Novellino.
Worth revisiting.