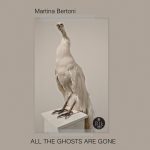 After releasing a few EP's and individual tracks and recording soundtracks for movies and TV-series, All The Ghosts Are Gone is Maria Bertoni's first full-length album.
Martina Bertoni is a Berlin-based cellist and composer, whose "work is based on rebuilding her identity as a cellist and deconstructing the relationship with her instrument by applying compositional and performing techniques that belong to electronic and ambient music."

The music for this album was composed "during a time [she] had no strength. Neither physical nor psychological". Composing, exploring the cello's sonic textures, making it sound "completely alien" was her daily therapy. And a 'liberation' in perhaps more than one way. Not just for the composer, but for the listener too!
"This record has been born from the necessity of stepping out of a pretty uncomfortable comfort zone. One of being a cellist and willing to create music that didn't belong to her instrument."
All The Ghosts Are Gone is released on the FALK label ('Fuck Art, Let's Kill') from Reykjavik, Iceland. It is released as a digital download and as a limited edition cassette.
---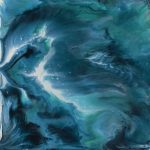 I was not familiar with Raphael Weinroth-Browne myself, but it's possible that you may know him from his work with Cholera, Kamancello (with the Kurdish-Iranian kamancheh player Shahriyar Jamshidi), Music Ox or The Visit … all of which are unfamiliar to me, too – it seems I have some catching up to do.

According to his own description, the Canadian cellist/multi-instrumentalist/composer "channels the energy and intensity of a full metal band with his solo cello performances" evoking "a sound world that is at once ancient and modern, all the while redefining expectations of how the cello should sound."
Worlds Within proves this bold statement, even though I personally think it bears little resemblance to a 'full metal band'. But there ís a lot of energy in this album which is produced using 'only' an acoustic cello, amplifiers and effect pedals.

Raphael Weinroth- Browne refuses to conform to the unwritten rules of modern-classical cello music, and creates his own version which is quite 'in-your-face' (and consequently not of the 'ambient/melancholical/modern romantic kind'.
Just listen to From Above and Tumult and you'll hear!
Sidenote:
For further proof of Raphael Weinroth-Browne's skills, you may want to check this live performance of Ricercare (unrelated to the album). After seeing this, I can only hope I can see him perform live somewhere in the future.

---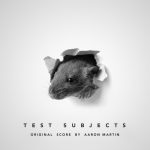 A short (14 minute) but very pleasant surprise from ambient cello veteran Aaron Martin: the score for Alex Lockwood's short film Test Subjects. – a short documentary "exploring the issue of animal testing".
Needless to say that in the context of the movies' subject this music is very sad. On its own, it demonstrates the power of the cello on its most melancholic in ten very short but effective sketches.
The prize-winning documentary can be viewed online; Aaron Martin's score is a Name-Your-Price download.