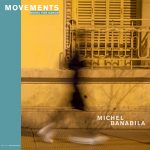 If one thing is clear from his 37-year musical career it's the fact that it's hard to pinpoint Banabila's music into one single style or genre. Incorporating world music influences with theatrical scores, jazz, voice samples – on to much more abstract experimental music, neo-classical … and all things in-between. It takes an open mind to follow him everywhere he goes. If you listen carefully, you cán hear a certain style and recognize Banabila's music immediately. He's built his own genre.
Theatrical performers, as well as documentary and television directors, have always recognized the power of his music. Movements is a stunning demonstration of works that were specifically created for dance performances over the years. In a way, it is also a compilation of Banabila's most powerful works: many fragments and samples are taken from his previous works. But it is not simply a compilation of previously released tracks: the works are re-composed, restructured and refragmented to build new compositions to fit the demands of the choreographers for their performances.
The four sides of (the double vinyl edition of) Movements are each dedicated to a specific choreographer: Yin Yue (Pennsylvania Ballet), Patrick O'Brian (CUNY Dance Initiative), Conny Janssen (Conny Janssen Danst) and Annabelle Lopez Ochoa (BJM Danse).

The music presented on Movements is hardly comparable to his experimental electronic works in dialogue with Machinefabriek, or his orchestral works in Uprooted earlier this year. This is very physical music. It only takes Dragonfly II, the piece on side A, to acknowledge this: opening with shifting sounds, showing his influence from Steve Reich, it intensifies into a dervish-like percussion frenzy that is guaranteed to make your palms sweat.
The same goes for most of the other pieces: starting slow but gradually luring you into an inevitable and inescapable climax. Illicit Acquirement (on side B) starts peacefully and keeps up a slow pace for most of its 19 minutes – apart from the accelerating end sequence. Crowds (featured in the Big Data Poetry Mix here) must be one of Banabila's most intense works ever: the constant presence of the sound of a protesting crowd indicates the times are changing, but will it bring freedom or will it bring doom?

The physical edition of Movements is a luxurious heavyweight vinyl double album: the hardback gatefold cover and inner sleeves, holding the 180g teal & gold marble colored vinyl, showing images of the dance productions this music was created for. This limited-edition is definitely worth chasing if you're into vinyl, but will probably sell out quickly (at the time of writing there are still some copies available at Norman Records (Europe) and Squidco (US). But after that there's still the digital download to enjoy. (*)
For those that already knew Michel Banabila's work, no further proof of his musical capabilities is needed. But for those that were not yet familiar, or for choreographers, movie and stage directors looking for a sound artist this is a great sample of the power of his commissioned work.
I have no doubt that this will be continued in the future.
(*) FREE download codes available for Ambientblog visitors:
There are three giveaway codes for a free download of Movements: simply enter a comment below to join! Winners will be randomly selected exactly one week after the publishing date.