This year (2019) the Home Normal label celebrates its tenth anniversary. At the same time, label owner/curator/artist Ian Hawgood announces a 'long' hiatus for the label in 2020. So the end of this year is a good time to release an album that, according to Hawgood', is the perfect album to demonstrate the labels motto: "unique organic minimalism' that resided in a 'home' that was
timeless and beyond simple definition".

Not one, not two, but a THREE-CD set with more than 2.5 hours of analog-ambient-noise by Tsone (Tony Obr from Phoenix, Arizona) – "musician, sound designer, composer, visual artist and educator focusing on innovative uses of sound in musical and non-musical contexts."

This Pagan Oceans collection originated back in 2012, when it was supposed to be released on the Nomadic Kids Republic label. But the release never happened because the label closed that year.
"This music has been my great compatriot for seven years", Hawgood writes, "taking me
through a number of journeys around the world. It has been a constant friend and reminder
that music is such a wonder, and that in these ever rushed times such spirit still matters, more than ever before."
Hawgood and Obr kept working on the masters, mixing them directly on reels on an old Studer A80 and sending the reels back and forth. And now, just before the label's hiatus, it is finally released to serve as a monument for everything that the label stands for.
---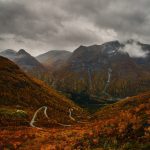 Home Normal celebrates autumn with two collaborations Ian Hawgood himself: one with Stijn Hüwels and one with Phil Tomsett (also known as The Inventors Of Aircraft).

Phil and Ian started 'sharing noisy synth patterns' in 2013 and kept experimenting for six years until they were ready to share this album as a result.
Due to the noises and 'bursts of randomness and melodic stabs produced by dying analog synths', they hesitate to call this ambient music. And indeed it isn't, in the strict definition of 'ambient'.
'We aren't sure how to define it probably', they state, but I think there's no need for another genre definition.. so let's keep it to 'adventurous electronic'.
Part of this adventure comes from the way it was produced: the edited cuts and samples were recorded on (reel-to-reel) tape, and 'the final mix of the album was done mixing a number of reels in real time".

It's a different sound than usual, indeed. But its attractiveness comes from the fact that Hawgood and Tomsett avoid the trap of becoming too experimental avant-garde, and carefully retain their sense of musicality for these pieces.
Beautiful guest appearance of Aaron Martin on Haven Returns, by the way.
---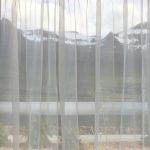 IAN HAWGOOD & STIJN HÜWELS – NO VOICES
Somewhat like on Fragmented Boundaries (mentioned above), a dying reel-to-reel tape recorder and a pile of old tapes were the main inspiration for this album too. The recordings were saved just before the old Akai 'slowed down to a halt', adding a special dimension of "unique tones and disintegrating textures" to the original sound.
This result was the starting point for Stijn Hüwels, who added his subtle guitar melodies.
The three parts of No Voices are the large part of the album: quiet and subdued music that feels like the album cover photo. The other three (shorter) tracks each have Japanese characters for their name (the ones you have to be careful not to let them comfuse your windows explorer).
Correct me if I'm wrong, but as far as Google Translate goes they translate to Tatami (a type of mat used as a flooring material), Just Now, and Shadow. All of the tracks are carefully sequences so they can be enjoyed in one single session.

According to Ian Hawgood, this is the kind of music that Home Normal wants to be known for. And remembered by, it seems: for he also mentions that this album marks a 'long hiatus for the label'. That's the bad news for this moment, I'm afraid. But at least we've got this batch of albums (an many previous beauties) to get through the (2020?) hiatus.