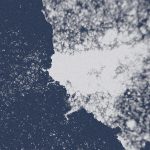 SIAVASH AMINI – SERUS
The Latin word serus roughly translates to 'late'. The overall theme and inspiration for this album is night in all its different definitions: "our perception of it and what night means physically to us as well as symbolically."
"Every night is two nights, according to Maurice Blanchot. The night the body spends in sleep is not the same as the night the dreamer spends in dreams. The sleeping body may lie under the stars, and the dreamer may dream of the stars—even of a journey to the stars—but the night of the dream is a night without stars. It is night that we resist in sleep, by way of dreaming."
Judged by the opening track A Recollection Of The Disappeared the nights are rather dark and scary. At least in the first half of the track: things get more peaceful later with the violin of Nima Aghiani.
Part of this comes from personal experience: many nights of not sleeping and intoxication, and an eventual nervous breakdown, culminating in Amini spending three days in intensive care. The result is deeply emotional music – that, fortunately, does not just focus on the dark and threatening side of the night but also on the inspirational.
Serus is available as a digital download and as (black or coloured) vinyl; there is no mention of a CD release. The A-side of the album contains two tracks: A Recollection Of The Disappeared and Semblance. The two parts of All That Remained conclude the album on side 2. On these tracks especially, Amini merges his textural electronics with 'post-classical' arrangement, leaving space for Aghiani's violin and the electric double-bass of Pouya Pour-Amin.
"I felt myself far away from all my surroundings and at the same time being very attentive to some details in the objects around me. It was as if my body was resisting sleep and my sleepy mind was resisting being awake."

Siavash Amini managed to re-create this sensation in great detail on this impressive album!
---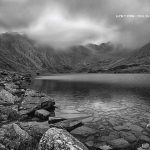 For those of you that do NOT live in Wales, this may need some translation. Llyn Y Cwn means Lake of the Dogs, and refers to a small lake in the Glyder mountain range of Snowdonia, North Wales.

"The Devil's Kitchen is the name given to the dark, black crack which splits the rock of Clogwyn y Geifr ('Cliff Of The Goat') between Y Garn and Glyder Fawr. The Welsh name for Devil's Kitchen is Twll Du, meaning 'black hole', because of the plume of steam that is often seen rising from the crack resembling a chimney. It's said when steam can be seen rising from the chimney, the Devil is cooking."

Now you know this, take a good look again at the album cover image, and you'll probably have a good idea of how this album sounds. Indeed: it's very dark and very, véry mysterious. Harsh and desolate but at the same time beautiful.

Llyn Y Cwn is Benjamin Ian Powell. This is his fourth full album since 2015 (not counting the shorter I & II EP's from 2009), but his debut release for the Cold Spring label. For his music, he uses environmental field recordings from the mountains of North Wales. It is intended to 'be played as the listener is going to sleep', but I'm not sure what kind of dreams this may yield…

'File next to fellow Welshman Lustmord'. It must be something in the water.
---