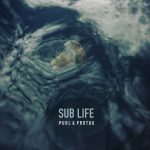 Not many details are revealed in the album liner notes: the artists 'conduct an emotional exploration of the natural world', drawing energy 'from primal forces constantly moving, around us and within us.'
And that the album contains 'lush field recordings combined with human voices and instruments evolve into an immersive journey for dreamy minds'.
There – that's all the information there is. No further information about the artists: Purl – one of the many aliases of Ludvig Cimbrelius who released more than 25 albums since 2011 – and ProtoU – the dark ambient alter ego of classically trained violinist and choir vocalist Sasha Puzan from Kiev.
It's true: more information than the short description is not needed: the music is what we've come to expect from the Dronarivm quality label. The five long tracks on this 59-minute album are very dreamy indeed, not necessarily 'dark' ambient by the way, but not exactly 'new age' either. It's the kind of immersive ambient soundscapes that makes you feel like walking through unknown and spoilt landscapes. Just like it says in the album description…
---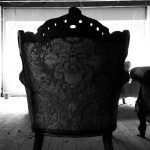 I hadn't heard of Sinius before, but when browsing around to find out more I noticed that he also released quite some work, a collaboration with Purl called Ocean Of Sound in 2016 among those. What a nice coincidence…
The album title and the cover image somewhat reminded me of the unsettling closing scenes of Kubrick's 2001 (the inter-dimensional bedroom). This may not be a big surprise since British-Indian composer Daljit Kundi is also working as a film composer, apart from his work experimenting with signal processing and recording electronic voice phenomena (EVP) in abandoned locations ('and beyond').

After a personal and deeply emotional experience with 'the dark forces that are everywhere in the periphery of our lives' (which he describes in full detail on his Discogs profile page) he tries to capture the sounds that resemble this past experience in which he sees proof that 'there's an energy field within the realms of earth and heaven'.

And he does so quite effectively if you ask me! With its 1 hour and 43 minutes of playing time, Inter-Dimensional Interference definitely allows you to explore various dimensions!

"The sense of perception is through the realms of the subconsciousness, a deep well-hole within the mind that resonates with the unknown, revealing its source of energy into the stream of consciousness." ​