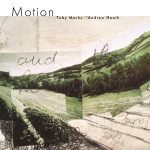 TOBY MARKS and ANDREW HEATH – MOTION  
You may not immediately recognise the name Toby Marks, because for the last 30 years he has recorded and performed as Banco de Gaia. More recently he became interested in electroacoustic composition, particularly 'in immersive sonic environments and the meeting point of deliberate and random composition.'
He is also the Disco Gecko label owner, which was originally a label for his own music, but has grown to be the home for other artists.
Such as soundscape artist Andrew Heath, who has released five solo albums on this label since 2014 (such as Evenfall, Soundings, and Lichtzin with Anne Chris Bakker)
Motion is the first full album on which the two work together. Travelling to all corners of Britain, they recorded all kinds of field recordings used in these compositions. These recordings represent each of the four elements: earth (slate caverns, stone quarries), water (ferry, canals), air (gliding club) and fire (railway – which possibly is a less obvious connection unless it was by steam train).
The recordings are embedded in widescreen compositions blending piano, guitars (reminding me of the Pink Floyd sound) and electronics.
The trip linking these (British) landscapes to the four elements is pictured in four long tracks, each about the length of a vinyl album side. It is a journey containing many surprises, alternating 'accessible' compositions with somewhat more abstract soundscapes. All presented in unbelievably detailed sound production.
"Sometimes evoking images of machinery, sometimes of nature, these pieces flow and twist, at all times maintaining a humanity and sense of personal experience at their core."    
---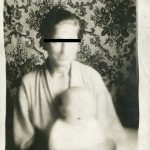 I might as well start this by mentioning this is a release on the Fluid Audio label, which means that the physical edition is almost sold out on pre-orders before its actual release date. At the time of writing, there were a few copies left on Bill Seaman's Bandcamp page, but these are probably gone at the time of reading. In which case it will be hard to find unless the digital download is fine for you.
Bill Seaman returns to the label with a set of twelve tracks, each divided into multiple subtitles. The atmosphere is 'faded grey', as the photos of a distant past in the package. It is a return to the past:
"Housed within archaic architecture and old hospital wards, one finds a still piano and a set of cold, careful strings. Dense ambient textures are coloured in a heavy grey. […] The music is both doctor and patient. Abstract sounds puncture the air with the precision of a scalpel. Notes flow into the brain; the brain absorbs their medication…"
Bill Seaman is not painting these pictures on his own. His piano, samples, percussion, guitar and 'non-location recordings' are accompanied by Wei Ping Lin's violin solos, David Rothenberg's clarinet playing, Sid Richardson on upright bass libraries and Tim Bjorklund on electric guitar libraries.
The abstract music breathes a strange atmosphere. It's beautiful and calm but there's always something dark lingering behind the beauty too.
Indeed, like walking in the deserted and perished remains of an old mental health hospital, becoming aware of the physical remains that can be seen as well as the emotional remains that can only be felt.