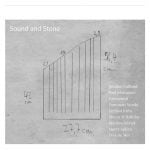 With the release of Sound And Stone, Steven M. Halliday concludes a two years research project of the Fessman Sound Stones for his thesis submitted to the Huddersfield University.
Hannes (and his father Klaus) Fessman's 'Klangsteine' are fascinating sculptures that are not only very beautiful to watch but also to listen to. They produce an incredible deep resonating sound seemingly connected to thousands of years of the Earth's history, and which seem to have therapeutic effect too: since 2009 the effects on Alzheimer memory treatment, micro circulation, increased white blood cells, muscle relaxation and depression are investigated. The stones definitely produce a 'mindful' sound…
The stones of Hannes and Klaus Fessman were a continuation and further exploration of the research of Elmar Daucher in the 70's and 80's (more on this later).
Sound speaks louder than words, so instead of spending more words on how beautiful these stone sculptures can sound, it's probably better to watch this introduction video by Hannes Fessman himself. It's 11 minutes long but definitely worth watching (and listening) to the end:
For this compilation album, the sounds of these stone sculptures were sampled and then the 'virtual sound stones' were given to 'some of the world's most forward-thinking music producers' to work with. And that's an impressive array of artists indeed: Jasmine Guffond, Paul Jebanasam, Tomonari Nozaki, Leyland Kirby, Machinefabriek, Monty Adkins, Yves de Mey, Farwarmth, and of course Steven M Halliday himself.
The result is an intriguing collection…. of electronic music.
And exactly this is what intrigued me: I'm sure the original deep, organic, resonating sounds of the stones are used throughout, bit still this feels like electronic music in the first place. Understandable, of course, since they worked with samples as their basic material, they do not play the stones themselves. On second thought this isn't a real surprise: "unfortunately, the logistics of getting the Hannes stones around Europe became impossible. Not only do you need a flatbed truck and crane to transport them, but there is also a considerable cost involved too."
So the samples would have to do as the base material – and so the original sounds are manipulated and reconstructed into these new pieces, with each artist' own sound characteristics.
As much as I love listening to this album, I still think it would've been great if some of the original sounds were more prominently included in this album (like demonstrated in the video above) too. The sound of the stones is so 'complete' that one may wonder if further treatments of these sound can really add anything to that.
This is perhaps why the download of this album also contains a sample pack of the original sounds. If you have a sampler, DAW of can process samples in any other way, you can create your own version of the Sound Of Stones. (The cassette version does not contain these samples for obvious reasons, but if you buy the cassette version it is included with the digital download. Problem solved…)
As an extra, it might be interesting to mention Stephan Micus' album 'The Music of Stones' from 1989. On this album Micus uses Elmar Daucher's resonating stones, and with ECM's immaculate recording they can be heard in full effect. Being Stephan Micus, this music is more eastern-oriented in style (adding shakuhachi and tin whistle) and not as 'experimental' as Steven Halliday's collection, but if you're interested in musical stones you should definitely check it out too.
---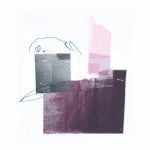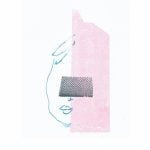 VARIOUS ARTISTS – DIALOG TAPES II: EILÉAN / DAUW
Three years ago, the labels Dauw and Eiléan released the first 'Dialog Tapes': a collection of tracks working together in various combinations, collaborating to create the music they love with like-minded souls. According to the labels' release policy, the Dauw edition was released on tape and the Eiléan edition on CD. A great concept, demonstrating that many artists share a musical vision and can work together regardless of geological borders.
The same applies to Dialog Tapes II, released after the same concept. Ánd on the same physical editions – but if this is the first time you read about this you can forget about physical that because those already sold out.
Don't worry too much about that: the digital downloads remain available and it's all about the music isn't it?
Like Dialog Tapes I this release-pair should be considered as a single unity: a double album release on two different labels/media. The one is not complete without its other half.
Almost all of the artists are performing on both albums with a different partner. With a few remarkable exceptions: Autistici (only on Eiléan) and Yadayn (only on Dauw). And Monolyth & Cobalt and Dudal break the 'change partner' rule by re-appearing as Dudal & Monolyth & Cobalt. 
I'll simply namedrop the other performing artists here, in order of appearance: Olan Mill, Øjerum, Humble Bee, Toàn, Stijn Hüwels, Offthesky, Benoît Pioulard, Josh Mason, Machinefabriek, Emmanuel Witzthum, R. Beny, Omar El Abd, Steve Pacheco. I'm assuming that these names are enough to get an idea of the resulting sounds.
The remarkable result of this shared musical vision is that these two albums also sound as if it was one single group of artists performing: there are variations in details, other accents, but generally speaking the music is all in the same vein – a coherent compilations without unexpected extremes.
All of these artists have been releasing their music on these labels so if you're familiar with the labels you know what to expect. An 'attempt to connect a musical field through its own creative forces. It's about connectivity and making new unexpected musical ties between individual actors'.