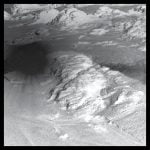 Apart from his various collaboration and split releases, Disappearing In A Mirror is Giulio Aldinucci's follow-up to 2017's Borders and Ruins; it's his second release for Karl Records. If you thought Borders And Ruins depicted a rather dark view on the state of the world, you'd better be ready for this new album.
"Where "Borders …" was a reflection on the instability of borders and their impact on the relationship between people and territory, "Disappearing In A Mirror" raises the very personal question of identity."
Aldinucci manages to create a sonic version of a hall of mirrors, where you can get completely disoriented from the images of yourself trying to find a way out.
In a striking combination of gritty distorted sounds and distant orchestral/choral arrangements that sound like a stretched Beethoven symphony, the first two tracks present a frightening dystopic view. But from there, Aldinucci restores the balance (somewhat) with Notturno Toscano – as if he doesn't want to scare the listener too much. But even in this track the intensity slowly increases again. There's no way out of the mirror maze, it seems…
In the words of Giulio Aldinucci himself:
"Disappearing In A Mirror focuses on the fluidity of the identity concept, highlighting the harmonious coexistence of contradictory elements and the transitional features that characterize every transformation. It is a reflection on the current situation of change and disruption and at the same time it is a gaze into the human timeless soul and its inner soundscapes."
A 'Hall Of Mirrors' is an entertaining maze as long as you realise you will find the way out at some point. But what if there's no way out but to disappear completely?
If the sweat in the palms of my hand is an indicator of emotional intensity, this album definitely belongs on the top the list!
---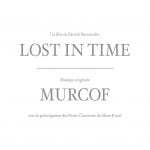 It took me some time to find out this was actually a re-release. I don't usually cover re-releases but this one is an exception, since the original 2014 release on Casino Luxembourg was vinyl-only and destined to virtually disappear from the radar into cult territories. (Fun fact: the original release still seems to be for sale from Casino Luxembourg).
Lost In Time is Murcof's soundtrack for a video by Patrick Bernatchez, which in turn was a sound project that was part of explorations around Bach's "Goldberg Variations". The choral aria of the Goldberg Variations, as performed by Les Petits Chanteurs du Mont-Royal is merged by the – rather ominous – Murcof soundscapes.
The result is quite different from most earlier Murcof releases. Much, much darker and more suspenseful than you would have expected based on his earlier work.
The choir arrangements sound otherworldly, alienated – I wouldn't have guessed that they are based on a Bach aria, because it sounds more contemporary in this context.
The combination with the (mostly electronic) soundscapes is downright chilling. Which is why Glacial Movements is the designated label for this fascinating (re-)release!
So praise to the label for re-releasing this album and making it available again on CD and digital download!
This particular edition features a bonus track available with the download, Chapitre N, which was especially composed for this Glacial Movements release.