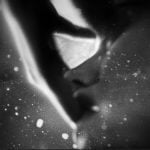 For each new release, the french label IIKKI matches a visual artist with a composer. The resulting art is always published as a combined hardcover book and disc (vinyl or CD). So the most obvious thing to do is to listen and watch both together and find out what the relation is between the music and the images. But, according to IIKKI, the book can be also watched alone, and the disc can be also listened to alone. So the parts (book, discs, download) can also be obtained separately.
For their sixth edition, the music is created by Aaron Martin, and the photography by Yusuf Sevinçli. As usual, pictures speak louder than words so I can best leave it to this visual introduction:
I cannot really tell if this Touch Dissolves is a 'collaboration' in the sense that both artists worked together in creating this release. I assume that Sevinçli's photos already existed, and that they helped inspire Aaron Martin to create the music to go with them. But either way, the result is a dialogue: it becomes a dialogue the moment you listen and watch together.
As always, Martin's cello arrangements are very cinematic, and they fit the black and white pictures perfectly. The music is a rewarding listen on its own, too, as is watching the pictures.
But – as with all IIKKI releases – the true 'added value' lies in combining both.
---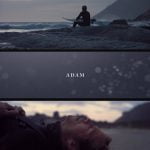 AARON MARTIN – ADAM
And since we're talking about the music of Aaron Martin, I might as well suggest to check out this soundtrack for William Armstrong's short film Adam too. It's a very short soundtrack: the seven parts take only seven-and-a-half minute and that includes two bonus tracks.
In fact I prefer to think of this set of fragments as one single track, since basically the parts are all variations on the main theme. In this way, Adam  is a demonstration of Aaron Martin's skill for writing catchy soundtrack themes.
Of course, this is not a full album – and it is priced accordingly: it is a Name-Your-Price download.
And – by the way: the short movie by William Armstrong, a documentary about the life-changing diagnosis of Adam Voigt and how he dealt with it can be seen below and downloaded for free from Vimeo. 
"You know every wave is different, and it's up to you to choose how you wanna ride it."