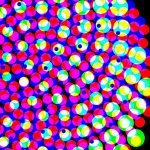 FRANK BRETSCHNEIDER – LUNIK 
It's definitely not ambient at all, but it ís 100% electronic, and every once in a while even the most dedicated dronehead like myself enjoys an inescapable beat. So: turn up the volume and press Play!
Frank Bretschneider – co-founder of the raster-noton label – presents his new album Lunik with the motto "It moves, it sings. … but does it swing?"
And right from the very first track you know it does. I don't think electronic music has sounded this funky since Kraftwerk (with a possible exception for some of the aliases of Uwe 'Atom TM/Senor Coconut' Schmidt)!
According to Bretschneider, this represents the soundtrack of his life and his musical influences:"some San Francisco psychedelia, some London underground, some Berlin school (old & new). Krautrock from Cologne & New York minimalism. A shot of Detroit grit, a bit of Moscow dust, a splash of Paris charm?"
Some life that must have been!
And, judging by the sparkling vibrancy of this record, it isn't over yet! 

---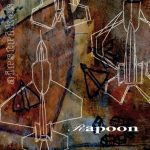 Rapoon is the alias of Robin Storey, also known as co-founder of Soviet*France. His immense catalogue boasts over 75 albums (since 1992) under this alias alone, not counting compilations, collaborations and releases under his own name (or different aliases). It seems the man literally breathes music. Often categorized as 'ethno-ambient', it is hard to pinpoint his music to a specific (sub-)genre
For Airstrikes he found inspiration in 'oriental music and rhythmic structures that derive directly from dance music'. It is a reflection on the hectic state of the world – and I'm afraid the future doesn't look too bright. The music is filled with impending doom, which is clear from the very first track Airstrikes (Disasters … Fake News), with its short vocal stabs Airstrikes – Disaster – I Told You So.
Another haunting track We Pray For Rain is like a rain dance ritual, summoning a cleansing, or at least desperately trying to do so. Drones are another subject – and in this context it's not about musical drones, but those used in warfare or intel operations.
Storey maintains the feeling of impending doom from the beginning to the end of the album. After six relatively short tracks the album closes with the 25 minute We Are Such Stuff…, which restates some of the musical ingredients of the previous tracks into one soundscape. The most 'ambient' track of this collection indeed, but still not exactly one that will ease you mind…
To celebrate Rapoon's 25th anniversary of his solo artistic activity, the Zoharum label has released a special wooden edition box-set limited to 50 copies. Also, there is a double album version which includes a recording of the Warsaw gig entitled Easterly Moon.