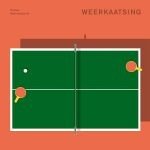 ORPHAX & MACHINEFABRIEK – WEERKAATSING
The dutch title isn't easily translated. Reflection comes close but doesn't quite cover it.
But the cover image reveals what this album is about: two artists interacting on each others work, bouncing the ball back to each other and creating new pieces along the process.
The starting point for this album was their mutual respect. To call it a collaboration album would not be entirely true: two (of the three) tracks on this album are a remixes of each other's music.
Orphax (Sietse van Erve, Amsterdam) remixed Machinefabriek's Stofstuk into Reflectie.
Spiegeling, on the other hand, is Machinefabriek's remix of Orphax' De Eerste Dag.
Completing this album is the title track Weerkaatsing, which is a completely new piece. Not a remix, but a 'real' collaborative work.
Drone-based electronics, but not the static kind of drones… there's a lot happening in these 43 minutes. The original sound is enriched with many tweaks and twitches, adding details that weren't there in the first place (such as the string section in Spiegeling).

Ever-changing –  yet with a consistent overall atmosphere…  Weerkaatsing is one of those collaboration projects where the whole is absolutely a lot more than the sum of its parts.
1 + 1 = 3.
---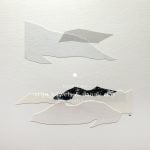 Stijn Hüwels is a Belgian musician that is not only known for his own minimalist music (created using processed guitar, loops and field recordings), but also as curator of the famous Slaapwel Records label – promoters of Sleep Music with a critically acclaimed discography of handmade CD(r)-releases.
Danny Clay (from San Francisco), on the other hand, describes himself as a Composer/General Noise Maker who's projects "often incorporate musical games, open forms, found objects, archival media, toy instruments, classrooms of elementary schoolers, graphic notation, digital errata, cross-disciplinary research, and the everything-in-between".
So there you are: merge Stijn's quiet and introspective guitar and voice with Danny's interacting (but also introspective) turntables, sine waves and celesta, and you're in for a sonic treat.
A very calming and undisturbed treat, for most parts.
The slow-paced (14 minute) 3.25.2016 (I), for example, has a background loop that could come from a William Basinski album (but without the degradation), and is covered in warm guitar layers and gentle glockenspiel-like bell sounds.
An Unintended Space is the duo's first collaborative project, on which they worked for a year. The tracks are titled by the dates they were considered finished (I assume): between february 2016 and march 2017.
---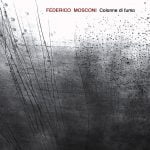 Eight 'smoke columns' created by Federico Mosconi from Verona, Italy: "undefined and changing soundscapes as the figures drawn by smoke". 
The opening track Notturno introduces sounds of distant thunder, while the album merges field recordings with Mosconi's guitar playing and live recordings into a beautiful dreamy set of lush ambient soundscapes.
Creating ambient music is not the only thing Federico Mosconi does: he graduated in guitar and multimedia composition at the Conservatory of Verona and has played solo as well as in orchestras, chamber ensembles and the electroacoustic improvisation sextet Cardew Ensemble.
Colonne Di Fumo is his second full album, following Acquatinta from 2014.