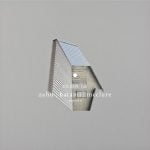 UWE ZAHN; DARREN MCCLURE; PORYA HATAMI – VEERIAN
If this was still the seventies (and if ambient drone music were a major popular genre) this would've probably be referred to as an Ambient Supergroup. Three renowned artists from the genre working together on this new collaborative project: Uwe Zahn (probably better known as Arovane), Darren McClure and Porya Hatami.
In modern times like now, there's no need to be working from the same studio, it's easy to exchange sounds from their own studios in Germany (Zahn), Iran (Hatami) and Japan (McClure).
There is no explanation about the album and track titles: strange words all beginning with V. Voon, Vhaundt, Vhandaan, Veeland, Velbb.  The titles are as abstract as most of the music is:
"Melodic piano parts rise above swirling layers of granular textures and processed field recordings to create widescreen ambience. The project put an emphasis on abstract sound design merged with more emotive, tonal elements to conjure an album that reflected three sonic viewpoints as a whole."
There is a wide range of sounds in the palette of this album. Each track has a different nature – the sound ranges from sharp, high-pitched electronics in the opening track to the soft, well-rounded sound of bowls and piano in Vhandaan. But all of the different elements are perfectly merged; the sonic personalities fit together very well.
Together, Zahn, Hatami and McClure are a team of sonic alchemists who created a very fine – pure 'gold' – album of abstract electronic soundscapes.
---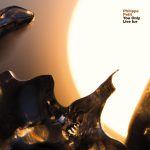 PHILIPPE PETIT – YOU ONLY LIVE ICE
For a release on the Glacial Movements label, it's a fitting title: You Only Live Ice. But the interesting question remains: do you consider this 'cold', 'glacial' music ("like being entrapped within an arctic shelf…"), or do you associate it with 'warmth'? It's all about context I guess…

Philippe Petit prefers to be introduced as a "musical travel agent" rather than as a composer. He has been creating experimental music since the early 2000's and has worked with quite an impressive list of collaborators: people like Lydia Lunch, Murcof, Stephen O'Malley, Faust, Foetus, Cosey Fanni Tutti, Graham Lewis, Scanner, Machinefabriek…. and the list goes on. Most of the works in his discography are collaboration projects, true solo works are relatively rare.
You Only Live Ice is such a solo work. It's a 43 minute piece presented in two parts: the first 9 minute are the basic piece that is de- (and re-)constructed almost beyond recognition in the second part which seems to drift further and further away from reality: "atmosphere and dramaturgy lead the ear into a suspended world…". But at the same time the tension slowly increases to an almost breathtaking climax… like you drifted off to somewhere from where you can't get back.
---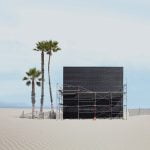 ROBERT CROUCH – A GRADUAL ACCUMULATION OF IDEAS BECOME TRUTH
"My work always privileges the act of listening; it is rarely about performance. After I recorded these initial sessions, I forced myself to forget about their construction, to un-learn how I made them, allowing myself the opportunity to experience them as sound objects. It is at that point where my composition process begins."
The five pieces on A Gradual Accumulation of Ideas Become Truth (six if you count the bonus track Potbelly Hill, Layer II (sanctuaries) included in the download) were all created from original studio improvisations that were recorded using a modular synthesizer as the primary sound source.
"Complex patterns were constructed, recorded, and quickly dismantled, with the intentions to use the stereo recordings as the basis for new conpositions at a later date."
The result is a fascinating collection of minimalist drones, each referring to a specific location (or moment), that are as detached from its original source as is the construction in the cover image.

---
JOSE SOBERANES – THE RISING TIDE
Harry ('Spheruleus') Towell's Whitelabrecs is releasing a string of interesting CDR's at a rate that is hard to keep up with. They are all released in a limited edition of 50 so chances are they are sold out quickly. Like this particular one is by now, sadly.
But the download version still remains available, so it's still worth paying attention to this album.
Jose Soberanes is a sound artist from Hidalgo, Mexico. He has created music from various influences, including IDM, Minimalism, Modern Classical, Death Metal And Jazz – but this album is presenting minimal drone pieces using acoustic and electric guitar, analogue synthesizers, static, effect pedals, tape loops, field recordings and found sounds.
"José strived to create something that would reflect his feelings of loss, anxiety and hope during what was a difficult time. These three elements form the basis of a thoroughly immersive sound environment spanning around 45 minutes with glimmers of hope flickering in and out of a wall of despair."