In case you are wondering about the recent lack of activity here: don't worry – there's a good reason for that:
Apart from the short holiday I enjoyed, I am now busy preparing an exciting project to celebrate the 10th anniversary of Ambientblog, later this year.
Details will follow soon – and it will definitely be worth the wait!
Unfortunately this also means that the pile of interesting releases that I shóuld have mentioned here is growing bigger and bigger…
I definitely will catch up with these later – even if that means that some of them will have sold out (physically) in the meantime.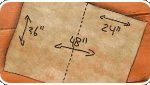 For those interested (and to fill the gap): I am currently publishing all my NPS Folio Radio shows as Folio_Archive on Mixcloud.
19 Shows from 2006/2007 are now online; another 33 from 2008/2009 will follow soon.
These shows were broadcast on Dutch national Radio 6, and so there are some spoken introductions in Dutch, too. But not to worry: they are always short and few, since the program aimed to let the music present itself.
It might be nice to go back in time a few years to discover some names that you may have missed then…
Even though the shows are 6-9 years old now, most of the music still sounds fresh to me, and possibly to you, too!