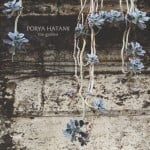 2014 is a good year for Porya Hatami (based in Sanandaj, Iran).
After releasing two collaboration albums (with Lee Anthony Norris and Lcoma, respectively), and a solo album ("Shallow") earlier this year, his new album "The Garden" is now released on the Dronarivm label.
There's the digital download, of course.
But there are also two versions of the CD (both limited to 150):
The regular CD comes in a beautiful 'discbox slider'; for the 'special edition' it is lavishly packed in a "tea and grass handmade colored envelope sewn up in hessian bag", together with "a lavender flower, 6 photo inserts (12×12 cm) on matte paper (200 gr.)".
Poryama Hatami's music on this album is every bit as beautiful as the package promises.
The tracks are all named after the small wildlife creatures you might find in your garden: "Firefly", "Spider", "Snail", "Ladybug", "Bee" and "Ant".
Hatami adds his own electronic sounds and processed acoustics, carefully balanced with the environmental sounds, so that both seem to enhance each others relaxing effect.
Throughout, there is some undefined crackling – which could very well be the amplified sound of the garden insects – merging with the delicate sounds of a gentle rain, wind- and bamboo chimes.
"The soundscape of "The Garden" forms from whispers and murmurs of rural nature, from that noiseless noise which lives in the summer air that are captured in a macro mode, so one can almost touch."
The atmosphere is like a refreshing rest in your garden on a late summer night.
"Atmospheric in a summer way, meditative in the Oriental style and just beautiful music".
A soundtrack for the summer night you're always longing for…