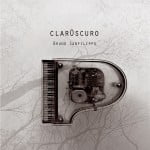 BRUNO SANFILIPPO – CLAROSCURO


Classically trained musician and composer Bruno Sanfilippo (Spain) presents a beautiful romantic and somewhat melancholic set of modern classical compositions for piano, violin (Pere Bardagi) and violincello (Manuel del Fresno).
"With the fragility and beauty of some Arvo Pärt compositions and a high cinematic touch, "ClarOscuro" brings the perfect soundtrack for an imaginary movie."
---
LUCHO RIPLEY – MEGABLAST


With a title like that you'd expect some raging metal, but of course it wouldn't be mentioned here if it was. On his debut, Lucho Ripley (who is also from Spain) presents some lush guitar tunes, "packed with thoughtful chord progressions and gorgeous reverb tails."
The immersive guitar sounds (somewhat comparable to that of Robin Guthrie) and relaxing tunes are a perfect accompaniment for summer twilight moments.
---
LUCY CLAIRE – COLLABORATIONS No. 1


This 5-track EP (almost 30 minutes) from contemporary classical composer Lucy Claire is based around two tracks: "Stille" (with vocals by Alev Lenz) and "Somnus".
They are presented in their original orchestral form (piano, strings, guitar and voice) as well as remixed by Message to Bears, worriedaboutsatan and Bruised Skies – each offering quite a different view on the original material.

---
CHRISTINA VANTZOU – REMIXES No. 2
Another fascinating (and equally short) set of remixes is offered by Christina Vantzou. Four tracks from her recent album "No. 2" ("Sister", "VHS", "The Magic of the Autodidact" and "Brain Fog"), remixed – sometimes beyond recognition – by Motion Sickness of Time Travel, Loscil, Ken Camden and John Also Bennett, respectively. Definitely a valuable edition to the "No. 2" album!
---
ULISES CONTI – LOS GRIEGOS CREÍAN….


From Argentina comes Ulises Conti, presenting his album with the lengthy title "Los Griegos Creían Que Las Estrellas Eran Pequeños Agujeros Por Donde Los Dioses Escuchaban A Los Hombres" ("The Greeks believed that the stars were small holes whereby the Gods listened to Men").
The track titles are considerably shorter: each is named by a letter of the alfabet. 27 (27? – the "Ñ" is an extra letter) relatively short sketches with a remarkable array of different styles.
The Gods (and you) are welcomed by a choir arrangement that deserves a performance by a real choir (instead of a sampled one), and from there Conti switches from cinematic styles to jazz arrangements and modern classical themes (with the piano as the main instrument), interspersed with some gritty electronics and field recordings.
A caleidoscopic musical vision.
ULISES CONTI – K