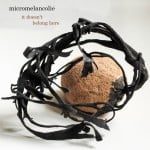 It seems I have missed some things in the past: Micromelancoliéis a new name to me, but according to the discography on his site, Robert Skrzynski has already released around 30 titles (cassettes and CD/R) since 2009.
Micromelancolié is a great name for his project.
Likewise, "It doesn't belong here" is a great album title, since that is exactly how the music sounds: as if it doesn't belong here.
These four sonic paintings are built around field recordings and found sounds.
But the surroundings are estranged by merging found sounds, computer electronics, no-input mixing board sounds, microsamples and archival tracks ('on the creative commons basis').
Ánd even more by the added violin contribution by Mia Zabelka (on the title track).
The track titles have a cultural connotation, too: "Wedding Songs and Funeral Laments", "Greeting and Farewell Songs"(In Three and Four parts – 4 and 33 minutes, respectively).
It's like an audiophonic documentary of an alien world – a fascinating world … though at times I doubt if it's a world you'd want to live in.