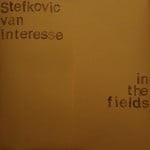 Needless to say that the first interesting thing I noticed was the name: Stefkovic van Interesse.
A surname that sounds quite Dutch…
Or, on second thought, German: van Interesse comes from Leipzig, Germany (I was tricked by the 'van').
But apart from his name there's a lot more interesting to this debut album "In the Fields"…
Over the years Stefkovic has built up a collection of field recordings, which are the starting point of building the tracks.
But they are looped, edited, transformed and turned inside out, changing into elements that are no longer recognisable as field recordings at all.
The result is a varied collection of otherworldly electronic soundscapes that sound refreshingly 'different' from most other.
Which is quite a remarkable accomplishment for a debut album, if you ask me.
Knowing that Van Interesse only started making music in 2007, I guess the future will bring some more surprises coming from him!
"Get your best pair of headphones, close your eyes and think of it as an island to explore."