A seemingly random collection of albums with the piano as the main instrument…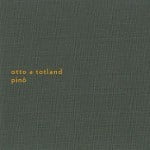 OTTO A. TOTLAND – PINÔ
Half of Deaf Center. Also half of Nest. More introduction to the intricate piano sounds of Otto A. Totland should hardly be needed.
"Pinô" is his first full featured solo-album, packed in a beautiful gold-embossed hardcover sleeve that perfectly matches the music it contains: atmospheric, calm, intimate.
The music was recorded in Nils Frahm's (Durton) studio on a squeaky piano with a soft, velvety sound. The intimacy is enhanced by bringing the environmental sounds up front in the recording.
You can hear the sounds of birds outside, Nils walking around (dropping things and coughing), and other sounds that most other recording engineers would usually try to avoid ending up into the recording. You can also clearly hear the piano mechanism at work, too.
In his recent interview with Headphone Commute, Otto Totland explains there are three types of pieces on "Pinô": "Composed (Steps, Pinô, Julie) – they could be sheet music. I play them similar every time. Improvised (Seveen, Bluss, Âust). I had not played them before. What you hear is the first time. Piano ambient (Open, Aquet, Flomé). For airy breaks between the more melodic pieces."
With the combination of these tracks and the sound recording decisions, "Pinô" feels as if Otto is performing an impromptu concert, just for you, in your own living room. And that's definitely nót something you want to miss.
Otto A. Totland – Solêr
---
MONOCHROMIE – WINTER
Played directly after each other, this album presents some radically different choices: the piano sound is bright and immaculately recorded, the music more extrovert and frisky, its repeating minimalism obviously inspired by piano works of Philip Glass.
The album title may be "Winter", but the fiercely hammered notes and jubilant themes are more like the fresh air of Spring, or the brightness of Summer.
While Otto Totland advises to play his album on 'soft' volume, Monochromie's "Winter" can best be enjoyed at a louder volume.
It'll make you forget that winter is usually a cold season.
---
3+ – KAZESARAI
While the piano is the main instrument, it is not a solo instrument on this album. It is embedded with field recordings, subtle electronics and string instruments. 3+ (or Three Plus) is Masahi Shiraishi from Japan, and his style sometimes loosely reminded me of the early piano works of Ryuichi Sakamoto (in fact at one moment I thought I heard a reference to the "Merry Christmas, Mr. Lawrence" theme).
"A somewhat minimalistic, electronically treated piano based journey into a fantasy landscape of gently rustling bamboo and reeds…flowing rivers… and mountainous mists."
As with all their releases, Time Released Sound will release this title in two different editions: a Deluxe Edition of 80 (price yet unknown), and a digipak edition of 200. At the time of writing the release date is unknown, but it will be soon.
3+ – Lunar Eclipse – Gessyoku (piano version)
---
FEDERICO ALBANESE – THE HOUSEBOAT AND THE MOON
Born in Milan but currently residing in Berlin, Federico Albanese's musical history as "one of the leading figures of Milan's underground scene" has taught him a wide array of styles.
This is his debut album, for which "He found a place, an imaginary place, where, whenever he wanted to, he could jump on and just float away, traveling across memories and imagination."

The 13 compositions are completed with electronics, live recordings, strings and homemade instruments. The all have a lovely, contemplative, and somewhat innocent feel – which makes this album the most accessible album of the four mentioned here.
Release date: february, 28
Federico Albanese – Disclosed
[total: 1,444 - today: 1]