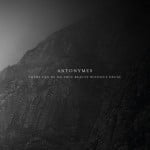 To celebrate its 50th release since 2009, Hibernate Records could hardly have chosen any better release than Antonymes' "There Can Be No True Beauty Without Decay".
Not only because Ian 'Antonymes' Hazeldine's music seems to represent all the things the label stands for ("both abstract and melodic but always with a hint of melancholy."), but also because the inspiration for this album came from his debut album "Beauty Becomes the Enemy of the Future", which was originally released in the same year, 2009.
Re-visiting his debut album, Antonymes composed seven new tracks, and had them remixed by Ian Hawgood, Isnaj Dui, Offthesky, Field Rotation, Wil Bolton, Spheruleus and James Banbury to complete this album.
"There Can Be No True Beauty Without Decay" presents the original and the remixes unpaired, so you'll have to re-shuffle the album to hear exactly how the remix compares to the original. Surprisingly, the remixers are not credited with the exact track in the liner notes, so it's a bit of a guess who exactly did what particular remix track. But obviously they all share the same vision with what Antonymes and Hibernate stand for: the different tracks could have easily been created by one single artist.
One might be tempted to listen to the originals and the remixes as 'true beauty' vs. 'decay', but of course it's not just that simpe – since the one cannot be without the other.
'Beauty' is often presented in Ian's majestic and melancholic piano themes, while 'Decay' may be found in the electronic remix deconstruction. Ánd in the sound of worn-out vinyl grooves, which seems to re-create that familiar but not yet forgotten sound of different times.
(As far as I know, the album is available as a CD-album and digital download, and not on vinyl – but wouldn't there be some irony in getting it on a high quality heavy vinyl pressing, to faithfully reproduce the familiar crackling sound of a low-quality worn out one?)
Looking at the track titles, the decay often brings sadness:"Forever Without Hope", "Misshapen Beauty", "Borne of Sadness", "The End of Everything"… 
But after listening to this album over and over again, I can only conclude one thing: it's a Beauty!

Antonymes – Means of Escape (I)
NOTE:
In anticipation of this album's release and its 50th birthday, Hibernate have asked five of their artists to compile an album of 10 of their favourite Hibernate tracks. The compilations, created by Antonymes, Wil Bolton, Isnaj Dui, Caught in the Wake Forever and Offthesky, are available as a FREE (or better: Name your Price) download!
So if you were not yet familiar with what the Hibernate label stands for, here's your chance!