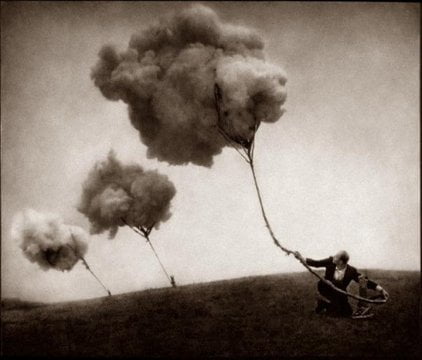 This must be one of the darkest mixes I have created until now.
I recommend headphone listening for this mix, but also recommend to avoid late night listening – unless, of course, you know what to expect.
The atmosphere is immediately set with the first notes, with a threatening (Boduf Songs) howl , and may even get downright frightening in the end climax.
Yet, not all is dark and gloomy.
In the middle section, there are also more optimistic sounds to enjoy, some more comfortable moments.
So: just let the Machinefabriek track ('Stroomtoon Eén'- about 4 minutes from the start) guide you downward to a lower consciousness level – "Inception" style – and from there let your imagination do the rest….
There are a couple of surprising 'similarities' in this mix: the two-note chords in the Richard Skelton – The The – Anna Rose Carter sequence, and the vocal part from Murcof track seamlessly following the preceding Library Tapes main theme.
But the most surprising track in this mix may be the Whistlebinkies track at the end.
Though not exactly a track to expect in any 'ambient' mix, I clearly felt that this theme should find its place in this mix.
Neither because it has a universal, somewhat melancholic, universally appealing, "coming home" feeling.
Nor because this version of the classic (Scotch) Gaelic song also has a nice musical-box like effect: a repeating theme gradually slowing down to help babies (or yourself) fall asleep.
But mostly because I felt I could not 'just' end this mix immediately after the preceding climax… This track is the equivalent of a movie's end title section – presenting the opportunity to get yourself together before you're leaving the theatre – still wondering what just happened ….
This is the question I want to ask you : what happened to you when listening to this mix?
Thanks for listening!
I am very proud that this mix has been "radio-premiered" on the same day it was published: in the 09-09-2012 edition of Bob Rusche's X-Ray radioshow (Concertzender, Holland) – it even was repeated exactly three months later: on 09-12-2012.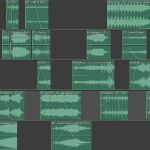 Playlist:
[Start] [Sample Length] [Artist] – [Title]
[Album Title], [Year], [Label Details]

00:00 01:05 Boduf Songs – Howl to Capitulate Undone Hours (3x)
Internal Memo, 2012, Morc Records MORC59
00:25 02:02 Matthew Florianz – Kuil
unused track for Los, 2011, selfreleased
01:40 01:43 Shackleton – Music for the Quiet Hours Part 1
Music for the Quiet Hours, 2012, Woe to the Septic Heart! SepticCD001
02:00 04:57 Dr. Jeffrey Thompson – Voice of Earth
Nasa Voyager I & II Space Probe Recordings, 1992, Center for Neuroacoustic Research
03:04 02:25 Peter Prautzsch – Nebelbank
Schwere See, 2012, Palacmusic PM008
04:15 06:00 Machinefabriek – Stroomtoon Eén
Stroomtoon, 2012, Nuun Records NUUN12
04:31 03:26 Dr. Jeffrey Thompson – Neptune
Nasa Voyager I & II Space Probe Recordings, 1992, Center for Neuroacoustic Research
09:05 02:52 Richard Skelton – Promontory
Verse of Birds, 2012, Corbel Stone Press CSPCD001
10:37 01:10 The The – Marking Time
Cineola Volume 1: Tony, 2010, Lazarus Cineola 1
11:14 03:50 Anna Rose Carter – Two for Joy (Ed Hamilton Edit)
Sequence 4, 2012, Future Sequence SEQ004
14:08 02:29 Xabier Erkizia – Ahmedabad Extasis
Somewhere on the Edge, 2012, Gruenrekorder GRUEN100
15:13 02:48 Ronny Nibletts – Slap My Halyards
Insta-gram-bient, 2011, Disquiet
16:05 01:59 Enrico Coniglio – Angels of San Marco
Salicornie Topofonie, vol. 2, 2010, Psychonavigation Records, PSY039
16:30 06:20 Wil Bolton – Blackpoint
Under a Name that Hides Her, 2012, Hibernate HB41
18:11 06:15 Antonymes – Familiar Things Happen, And Mankind does not bother about them
Light Dispersed, 2012, Hibernate Postcard 018
21:28 06:30 Biosphere – Vi Kan Tenka Digitalt, Vi Kan Tala Digitalt (edit)
Compilation 1991-2004, 2012, Biophon Records BIO7D
25:46 06-09 Joe Evans – Oort Cloud (edit)
Ecliptic Plane, 2012, RunningOnAir RM008
29:11 02:25 Leah Buckareff – Breathing Heavy
Breathing Heavy Breathing, 2012 Thisquietarmy records TQA023
30:21 03:28 Woob – 85bit
Repurpose, 2010 Bigamoebasounds BASCD01
32:54 04:10 Loscil – Halocline
Sequence 4, 2012 Future Sequence SEQ004
35:30 03:47 Deaf Center – Plateaux (edit)
Lost in the Humming Air, Oktaf OKTAF004
38:25 01:59 Mark Peter Wright – A Line Made By Listening
Somewhere on the Edge, 2012, Gruenrekorder GRUEN100
39:26 06:44 Sleep Research Facility – Stealth 1 (edit)
Stealth, 2012, Cold Spring CSR159CD
39:56 03:03 Sleep Research Facility – Stealth 3
Stealth, 2012, Cold Spring CSR159CD
44:16 03:14 Library Tapes – Found
Sun Peeking Through, 2012, Auetic auecd006
47:07 02:24 Murcof – A Lesson for the Future Farewell to the Old Ways
The Versailles Session, 2008, Leaf BAY67CD
48:25 04:42 Chris Watson – El Tajin
El Tren Fantasma, 2011, Touch TO:42
49:53 04:19 Thomas Köner – Novaya Zemlya Part 2
Novaya Zemlya, 2012, Touch TO:85
50:38 03:12 Pablo Sanz – Maghrib Prayer
Somewhere on the Edge, 2012, Gruenrekorder GRUEN100
52:20 03:37 Laura Sheeran – The Sadness of the Sea (Esperik Glare Remix)
The Sadness of the Sea Remixes, 2010, selfreleased
54:11 03:12 Recyclopedia (Frans Friedrich/Robert Kroos) – Tao Theta
Recyclopedia T, 2011, selfreleased
54:50 01:55 Nicolas Bernier, Jacques Poulin-Denis – Olo
Sur Fond Blanc, 2012, Ekumen EK009
56:13 01:08 Bruce Gilbert – Isopyre
Oblivio Agitatum, 2009, Editions Mego eMEGO096
56:50 00:31 Boduf Songs – Howl to Capitulate Undone Hours (Edit, 3x)
Internal Memo, 2012, Morc Records MORC59
57:18 02:42 Whistlebinkies – Nuair A Bha Mi Og (When I Was Young)
Timber Timbre, 1999, Greentrax CDtrax159
1:00:00 End

Download Gathering Clouds Now 100Mb (60:00 min.)
[DTS – Surround Version also available]
[total: 1,916 - today: 1]