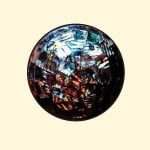 The music that is presented on "Here Is Where We Used To Sing" is not the kind of music usually presented here on Ambientblog.
But ever since their impressive debut release "Neither Speak Nor Remain Silent" I have a weakness for all things Fovea Hex.

Apart from that, they are closely connected to the ambient music scene because of the musicians involved in the project, and expecially for the extremely mininal drone remixes that come with the special editions of their albums.
With eleven tracks (including three instrumentals) "Here Is Where We Used To Sing" is a perfectly balanced album in itself, but if you are interested in ambient/electronic music (and I guess you are or you probably wouldn't be reading this here), you should definitely go for the limited special edition that features a 31 minute bonus EP with fascinating remixes of the original source material by Michael Begg, Colin Potter and William Basinski.
Like its predecessor, this album defies any genre tag. It is rooted in a tradition that feels utterly English, it connects to folk music – but it isn't. The arrangements are complex and adventurous, yet appear soft and soothing – the music is as poetic as the lyrics.
"Here Is Where We Used to Sing" follows the same path as "Neither Speak Nor Remain Silent", but somehow feels more mature. This may be because the contributors have become more of a collective, since they have performed live in recent years.
And an (impressive!) list of contributors it is: Laura Sheeran (Clodagh's perfectly matching vocal sidekick), Michael Begg, Brian Eno, Colin Potter, Julia Kent – just to name a few.
But after all, the shining star of this project of course remains writer and singer Clodagh Simonds.
Once again, this album deserves to be heard by a wider audience, but it will probably 'go cult' like the previous album did. My advice: don't miss it!
At the time of writing, the limited edition with bonus CD is still available.
MP3 and FLAC versions can also be downloaded from Janet Records or BandCamp.
Spotify also features Fovea Hex releases.

Fovea Hex – excerpts
Note:
The track presented here is a 'mini mix' featuring some parts of the album; it is not included on the album in this form.  This 'mini-mix' includes (parts of) the following tracks: Fall Calling (bonus), Jewelled Eyes, Love for the Uncertain, Cup of Joy (bonus), Glaze (bonus).