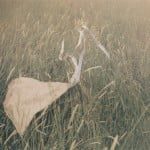 These artist names are probably familiar to everyone even remotely interested in ambient/electronic music.
Multi-instrumentalist Peter Broderick (from Oregon, now living in Berlin) released quite a few impressive albums under his own name, and is currently touring as a member of Efterklang.
The number of albums Rutger "Machinefabriek" Zuydervelt (from Arnhem, now living in Rotterdam) has released can hardly be counted any more (quite some of them are featured on this weblog).
So when two such great artists start working together expectations are quite high!
Blank Grey Canvas Sky, released on the FANG BOMB label,  is a collaboration on which Rutger and Peter stretch their limits even further.
The album is as much acoustic as it is electronic, and it's very diverse yet very homogeneous. There are quiet piano and string parts, even some soft vocals ("Rain", with Susanna Lundgren),  as well as distorted gritty 'spliced' electronics. Some additional piano parts are played by Adam Selzer and Nils Frahm (who plays the part on the 'Homecoming' track featured below).
Broderick and Zuydervelt prove to be a perfectly balanced match of extremes.
This album is one of the best in both artists' discography so it definitely deserves a place in the collection of anyone familiar with either one of them. Or anyone unfamiliar, for that matter.
Peter Broderick & Machinefabriek – Homecoming