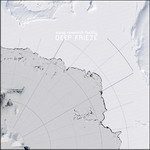 Sleep Research Facility should be credited for one of the best names in ambient music. Apart from that, Kevin Doherty was also responsible for the Nostromo release a few years ago. Nostromo was based on the first minutes of sound from the first Alien movie (Nostromo was the name of the spaceship) (*), and the music was as deep as outer space. (By the way: you cannot find this release anymore by now, but Cold Spring Records has announced a re-release later this year).
Deep Frieze is Kevin Doherty latest SRF project. Thematically it stays more to earth this time: the five track names are geographical coordinates that point to the Antarctic region. You can use Google Earth to check themand to get an impression of this uncharted territory. There's no difference in the overall feeling of deserted loneliness however. Being in the heart of Antarctica might just feel as lonely as floating in outer space.
There's some vague hints of melodic themes at times, but mostly Deep Frieze equals Nostromo for the immeasurable depths of the layered drones, which resembled me of the work of Thomas Köner.
LATEST NEWS:
Ambient-droneheads prepare!
NOSTROMO will be re-released in October. It'll be remastered, and will feature some new additional tracks.
That's your chance to obtain one of the best deep-drone ambient cd's ever released (and trust me, I've heard quite a few)!
To celebrate that, FOLIO will feature a Sleep Research Facility special on October, 2. A full one hour mix of Sleep Research Facility music, featuring tracks from Nostromo, Deep Frieze, Dead Weather Machine and Re:heat.
(International listeners can listen to this radio show through the webstream – see details on the Folio site)
(*)
Kevin "Sleep Research Facility' Doherty aptly paraphrases the Alien punchline:
"In space no one can hear you dream"
[total: 1,535 - today: 1]