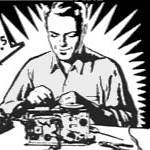 I don't know if you have noticed the links to various weblogs on the "Links" page, but if you did, you have probably found the Low Light Mixes, and treasure them like I do. All mixes are worth the download, but the latest one, A Drift on the Signal, is especially rewarding.
It's an ambient mix that was inspired by the Conet Project, a source of shortwave recording that'll excite anyone who's into global conspiracy theories (check the liner notes for this mix), and by the recordings that can be found on Myke Weiskopf's SHORTWAVEMUSIC weblog.
The noise and interference of these shortwave recordings (the kind of samples Holger Czukay used to apply in his music) are fascinating. It feels like sounds drifting in from another time and galaxy. Somehow, the ambient tunes and drones mix perfectly with the imperfect, glitchy  recordings from beyond faraway borders. And the spooky paranoia of the 'numbers' stations that are claimed to broadcast covert intelligence messages only enhances to this listening experience!
Download this mix if you can, and don't forget to encourage Dave to create and share more!