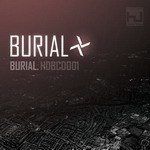 We already enjoyed Pole, of course, and Deadbeat, and don't forget Rhythm & Sound. And now from London comes Burial with this self-titled CD.
The genre is called 'DubStep' – and there are quite a lot of new electronic DJ's exploring it. Lot of times it sounds flat, one-dimensional, analogue and not very inspiring. But every genre has it's geniuses.
Burial is a very good example of how adventurous this new music can be. Neither Dance(-able) nor Reggae, neither ambient nor classic dub. Yet all of these at the same time, and very heavily electronic. A bit like Adrian Sherwood mixes from another dimension…??On the 'Hyperdub' label, which describes it as "Burial's parallel dimension sounds set in a near future South London underwater. You can never tell if the crackle is the burning static off pirate radio transmissions, or the tropical downpour of the submerged city outside the window. In their sometimes suffocating melancholy, most of these tracks seem to yearn for drowned lovers."
'The tropical downpour of the submerged city' …(well it wás quite hot in London, that's true)….'yearn for drowned lovers'…Just top thát for a description!
TRIVIA fact:

If I'm not mistaken this track uses the classic sample of "The Silver Gun" (a classic persian love song) David Sylvian used in "Nostalgia" (from 'Brilliant Trees'), later to be covered by Dead Can Dance? (And which was also covered by Robert Palmer on 'Pride' – bet you didn't know thát)