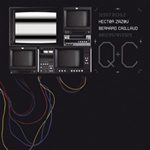 The music on this disc is just incidentally something remotely 'ambient'. Most of the time it's experimental electronic music, vaguely remembering the avant-garde scene from the late 60's and seventies. At first listen, that is. When you listen more closely, you'll hear that this music perfectly fits the 2006 timeframe. It's clicks, cuts, hums and bleeps, but there's something most other recordings in this field mostly seem to lack: emotion. (It's exactly that in which this music resembles Murcof's 'Remembranza')
It's the perfect blending of Zazou's electronics with strings (played by Archea Strings) that makes this music stand out compared to a lot other releases in the same field. That, ánd the help of some of his friends: Brian Eno (performing onthree tracks), Ryuichi Sakamoto, David Sylvian and Peter Buck (!? Peter Buck of R.E.M. fame!?).
It's not often that projects like this 'touch' me like this one does: most are too arty, or too pretentious, or just not interesting. This project proves that Zazou is a master in this field of experimental electronic and it must have been the work of Bernard Caillaud that inspired him to do this.
Apart from the audio cd, the package contains a DVD with the 5.1 surround remixes (!) of the music accompanying the digital artwork of Bernard Caillaud. There is no direct (intended) relation between the music and the computer art, but both perfectly fit each other. This really turns your living room into a modern art gallery!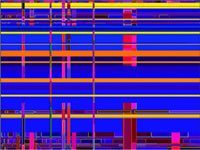 Both discs are packaged respectfully, along with 10 reprints of Caillaud's work (one for each track).
Commercially, this release may be a risky one when compared to Zazou's earlier projects. Praise to Materiali Sonori (the label) for taking that risk.