Non-Profit Compilations supporting charity organisations are a great way to spend your money: you'll do something good with it ánd receive a load of interesting music in return. Two heartwarming examples below.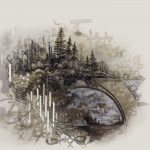 Fluid Audio is a 'boutique' label that specialises in stunningly hand-packed limited releases that almost every time sell out immediately after announcement in their newsletter. Over the years, many renowned artists have released albums through their label. Looking at their previous releases, it's easy to see why you'd to prefer their physical releases over the digital version. But's it's a challenge: you have to be quick! (Tip: sign up to their mailing list)
Unlike their usual release policy, however, Place Language is a digital-only release. It's easy to see why: the 28 (twenty-eight!) track collection presents almost three hours of music!
The collection is inspired by Robert Macfarlane's 'Landmarks', in particular its "extensive collection of landscape terms gathered from 30 different languages, dialects and sub-dialects around Britain & Ireland, divided by type of terrain (Flatlands, Uplands, Waterlands, Coastlands, Underlands, Northlands, Edgelands, Earthlands and Woodlands)".
Each of the artists chose a word from the book and recorded an impression of it. "The result is a global, collaborative survey of place, language, and sound."
Among the impressive list of contributors are artists like Benoît Pioulard, Wil Bolton, Simon Scott, Lawrence English, Porya Hatami, Taylor Deupree, Marcus Fischer, Hammock, Hotel Neon, Siavash Amini, Kate Carr, Yann Novak, Celer, Aaron Martin, Hakobune and Ian Hawgood (who also mastered the album). Please note that these are just 16 of the 28 contributors!
If that is not enough in itself, the profits from this collection will all be donated to War Child, the organization that provides relief to children in areas of war and conflict; children without a place of their own. That's at least twenty-nine reasons to buy this album!
---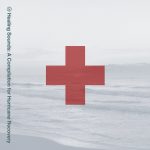 Coincidentally, this compilation curated by the Past Inside The Present (PITP) label also features 28 tracks, with only slightly less playing time (2.6 hours).
PITP is a relatively young but extremely productive label. It's a bit hard to keep up with their release rate, but it's definitely worth the effort trying.

With this compilation, the American label supports the Bahamas branch of the International Red Cross, to support families that lost so much in the immense physical destruction of hurricane Dorian on the Bahamian islands of Abaco and Grand Bahama.

There are a few familiar names among the contributing artists here (Olan Mill, Gallery Six, Phillip Wilkerson, Worriedaboutsatan, Slow Dancing Society, Isaac Helsen, Zakè. 36), but overall this compilations presents relatively new artist names. This way, it also serves as a taster of what can be expected from the Past Inside The Present label in the near future. Be prepared!

The compilation is generously offered on a Pay What You Wish basis, but you must have a heart of stone if you do not donate what you can miss for a compilation like this, supporting a cause like this. Don't you dare!