In the Shortlist sections, I will mention the albums that I enjoyed listening to, but couldn't find the time (or the right words) for a "full" review for.
Still, I definitely think they deserve your attention, with or without extra words!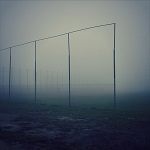 LINEAR BELLS – WINTER HAZE
So this is what happens when I'm way too much behind reviewing albums: currently we are preparing for summer and trying to forget about winter, ánd the limited physical CD edition is already sold out by the time you read this…
Still, no problem: another winter will arrive sooner than you think, and there's still the digital download version to enjoy!
"'Winter Haze' was composed and produced over a period of 6 months whereby it was practised over improvised sessions followed by processing all the materials with the use of guitars, organ and field recordings. The album is about loneliness, time passing, and frozen thoughts with the idea of keeping River Loire in mind."
---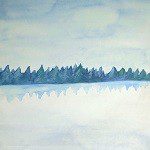 CASS. – LOOPS & FAREWELL SKETCHES
Much to his own surprise, the CD-version of this self-released album by this 22 year old German "electronic ambient musician, dj and sound artist" sold out within 2 weeks. He has re-released it on vinyl and as a digital download release.
"All songs are the result of various late night recording sessions during the last month of 2012. The sound sources vary from old, sampled, pitched, modulated and destroyed records, a large field recording directory that has been created over years, multiple effected instrument- and synthloops layered on the top of each other, and different small acoustic instruments. All these elements of the album create a meditative looping bed of sound, which is in some parts framed by his own hazy voice. Much of this album is also the sound of microphones in the room, picking up the sound of moving around, or brushing the edge of an instrument."
---
RICHARD LAINHART / LUCIO MENEGON –
AN ABANDONED GARDEN
A respectful hommage to a great composer, and a beautiful package: limited vinyl edition (100), including digital download version (no download-only version yet as far as I know)
"Richard Lainhart (Buchla 200e and Hakkan Continuum) passed away on December 30, 2011 and is remembered as an award-winning composer, performer, filmmaker, and teacher based in New York. Richard's work is regarded as seminal in American electronic music and his compositions have been performed worldwide.
Lucio Menegon (lapsteel/processing) is an NYC composer and guitarist who performs throughout the United States and abroad. Lucio and Richard performed together in 2010 and afterward initiated a series of three full recording sessions that became "An Abandoned Garden", an in-depth yet minimal exploration of emotional spectra through sustained, organic textures and hauntingly beautiful drones and evolving timbres."
---
---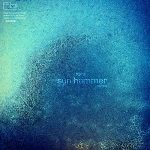 SUN HAMMER – FORS
"The two pieces on Fors are the results of explorations into generative and randomized looping and granular time-stretching algorithms.
Both are based entirely upon short pieces of audio recorded outdoors in Ann Arbor, MI and Portland, OR.
The first was made as an attempt at "ambient" music, suitable for quiet office listening; the second to commemorate a young friend's sixth birthday."
[Name Your Price download]
---
DIGITALSIMPLYWORLD – REALITY BLURRED
"This description will be short there is not enough time for reading, because we have to focus on listening.
Music is another dimension of reality, it's above dimension. Music on the other side of the mirror…Your mirror."
[FREE Download]