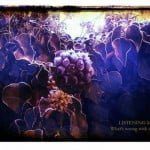 A closer look on this latest Listening Mirror album called "What's Wrong with Miracles?"  shows that this is in fact one side of the mirror: there's no trace of Kate Tustain's soft heavenly vocals on this release. 
(For that, you may want to check out the beautiful recent compilation overview "Resting in Aspic" ) 
Compared to the soft vocal counterparts on the previous releases, Jeff Stonehouse presents a rather dark mirror on this new release.
"What's Wrong with Miracles?" presents three long tracks (each up to 20 minutes).
The first two, "Storm Train" and "It's in the Trees" feel related in sound and could also have been one single track.
The difference is that the thunderous storm sounds from the first track (said to scare the hell out of dogs that are afraid of thunder) slowly seems to have moved away in the second track, opening up the sky for some more peaceful soundscapes.
As usual, Jeff demonstrates he is a great manipulator of atmospheric sounds, carefully placing sparse guitar accents over a densely layered (yet 'open') electronic background.
Those familiar to the heavenly and peaceful voices of previous Listening Mirror releases may have to adjust their expectations somewhat to fully appreciate this dark and gloomy soundscape.
But it's rewarding enough to do so.
Play loud (but please put your dog outside before you do!)
Listening Mirror – Storm Train