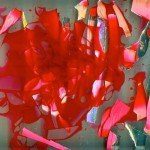 "Cuts" is the first official release from Washington D.C.'s Dentist.
Lou DiBenedetto began recording as Dentist in 2007 as an outlet for his interest in synthesizers and affection for electronic musician Wolfgang Voigt's work as Gas.
Inspired by the versatility and inexhaustible replay value of Voigt's ambient albums, Lou set out to record drones for himself to listen to on a purely functional level, a homemade musical accompaniment to working at his day job, driving his car or walking around the city.
He kept his recordings to himself at first but eventually warmed to the idea of sharing them with friends and putting them online.
(text taken from the original promo text)