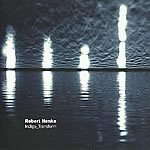 Once again Monolake genius Robert Henke delivers a masterpiece of tranquility: a 60 minute reworking of "Indigo", the closing track of Monolake's Cinemascope album (2001).
The original track is 8 1/2 minutes of layered sound and relaxing dripping water.
Swedish "installation artist" Fredrik Wretman contacted Robert Henke to use this track for a new installation called "Tap Tim": 'one single calm and focused work of art in a huge gallery space'.
But as expected this simple approach was not the route Henke would prefer to take. The original track simply was too short to just put on repeat.