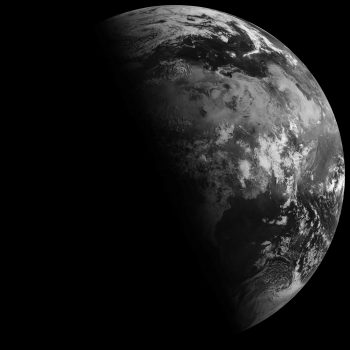 A two-hour mix for the longest night: Winter Solstice. To be played (and hopefully enjoyed) in the deepest darkness. "Dream All The Dark Away" … — originally published on Ambientblog —
December 21 is the longest night in the Northern hemisphere. It marks the start of Winter (even though it is also called "Midwinter"), but gradually the nights will slowly get shorter as to indicate spring will be coming, eventually.
For the 2019 Winter Solstice, Dutch Radio station Concertzender Nederland programmed an 8-hour ambient music special from 23:00 until 07:00 (11pm to 7am). That's a good night's sleep for most people!
My contribution was scheduled to close the night: from 05:00 to 07:00 (5am to 7am).
For the context of this ambient night, I created a mix that is somewhat different from most Ambientblog.net mixes – after all, this was intended to be broadcast in the deepest hours of the darkest night of the year. So this one is more drone-oriented for the most part, slower, less 'dynamic' and less 'intense'.
More info on https://www.ambientblog.net/blog/2019-12/winter-solstice-mix/
note: first time is start time, second time is fragment length
00:00 01:48 Suzanne Vega – Stay Awake
Stay Awake (Various Interpretations Of Music From Vintage Disney Films), 1988, A&M Records
00:20 05:09 Atom TM – Texturen I
Texturen I, 2015, No.
01:19 02:57 Chris Meloche – Loop 6 (Excerpt)
X-Rated – The Electronic Files, 2002, Boudisque Records
03:41 03:22 Thomas Koehner & Asmus Tietchens – Frühruin Part 1
Σ + Frühruin (Kontakt Der Jünglinge Box), 2004, Die Stadt
06:01 04:07 Thomas Köner – Nuuk
Nuuk, 2004, MillePlateauxMedia
08:55 03:07 Akira Rabelais – Track 52
Spelle Remixes, 2005, unreleased (private collection)
09:05 03:39 Bass Communion – Sisters Oregon, Part 3
Sisters Oregon, 2017, Drone Records
11:07 06:15 Bass Communion – Sisters Oregon, Part 4
Sisters Oregon, 2017, Drone Records
14:27 04:52 Else Marie Pade & Jacob Kirkegaard – Nimbostratus
Svaevninger, 2013, Important Records
16:24 05:42 Eliane Radigue – L'Île Resonante
Oeuvres Electroniques, 2018, INA-GRM
20:39 06:56 Brian Eno – Five Light Paintings
Music From Installations, 2018, Opal Records
26:00 04:15 Hilary Jeffery – Belfast Tromboscillator 2
Belfast Tromboscillator, 2007, self-released
28:37 05:53 James Plotkin & Mick Harris – Dissolve
Collapse, 1996, Asphodel
31:24 06:23 Alva Noto & Ryuichi Sakamoto – Glass
Glass, 2018, Noton
34:44 05:48 Deep Listening Band – CCCC (Cistern Chapel Chance Chants)
The Ready Made Boomerang, 1991, New Albion
38:04 05:12 Michael Fahres – The Tubes (feat. Jon Hassell & Mark Atkins)
The Tubes, 2007, Cold Blue Music
41:21 06:02 William Basinski – Worry
Two Point Two, 2003, 12K
45:05 08:22 Biosphere – Valchyrie
X-Rated – The Electronic Files, 2002, Boudisque Records
48:56 08:15 Yann Novak – Surroundings
Surroundings, 2017, Line
53:08 07:23 Broeder Dieleman – Omer Gielliet
Uut De Bron, 2015, Snowstar Records
59:42 02:08 Jeff Bridges – Sleep, Dream, Wakeup
Sleeping Tapes, 2015, Squarespace
1:01:01 02:06 Morgen Wurde feat. Maria Estrella – Laesst Los
Pop Ambient 2020, 2019, Kompakt
1:02:24 03:52 Monty Adkins – Secret Dreams
Rift Patterns, 2014, Audiobulb
1:05:06 02:25 Ambrose Field & John Potter – Presque Quelque Chose
Being Dufay, 2009, ECM
1:06:52 03:00 A Winged Victory For The Sullen – Aqualung, Motherfucker
The Undivided Five, 2019, Ninja Tune
1:08:39 03:37 Jacob Kirkegaard – Opus Morturarium – Excerpt
Opus Mors, 2019, Fonik
1:10:49 05:56 Ben Lukas Boysen – The Behinian Gospel
Gravity, 2013, Ad Noiseam
1:14:49 01:53 Dean Hurley – Low Sustained Mystery
Anthology Resource Vol. 1, 2017, Sacred Bones Records
1:15:51 04:03 Jeff Greinke – Out From Under (excerpt)
A Storm Of Drones, 1995, Asphodel
1:18:46 04:22 Gray Acres – Unconditional
Material Forces, 2019, Whitelabrecs
1:20:49 05:54 Robert Henke – Studies Of Thunder
Signal To Noise, 2004, Imbalance Computer Music
1:24:35 04:34 James Murray – Carina
Heavenly Waters, 2017, Slowcraft
1:28:34 03:27 Robert Rich – Senescent Architecture
Tactile Ground, 2019, Soundscape
1:30:46 03:18 Kim Cascone – Lunar Gauzes-Alchemisphere
Lunar Gauzes-Alchemisphere, 2012, eSpace
1:32:52 09:44 Fovea Hex – We Dream All The Dark Away (Abul Mogard Remix)
The Salt Garden II, 2017, Headphone Dust/Die Stadt
1:41:18 03:23 Jana Winderen – Submerged
Submerged, 2009, Touch
1:42:51 09:04 Greg Haines – 183 Times
Digressions, 2012, Preservation
1:50:52 03:16 Chris Watson – Cima Verde
Cima Verde, 2008, Fondazione Edmund Mach
1:52:50 06:37 Oliver Messiaen – Oraison, 1937
Ohm – The Early Gurus Of Electronic Music 1948 – 1980, 2000, Ellipsis Arts
1:58:22 01:30 Biosphere – Steinfjord
The Senja Recordings, 2019, Biophon Records