In the Shortlist sections, I will mention the albums that I enjoyed listening to, but couldn't find the time (or the right words) for a "full" review for.
Still, I definitely think they deserve your attention, with or without extra words!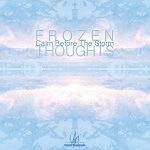 FROZEN THOUGHTS – CALM BEFORE THE STORM
Frozen Thoughts is Petar Sakic, previously releasing hardcore dance music as Phobos. After hearing Biosphere's 'Substrata' in 2005, he started to create his own ambient music – especially created for the Glacial Movements label, which is particularly known for its characteristic glacial (though not 'cold') atmosphere.