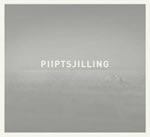 Just mentioning Rutger "Machinefabriek" Zuydervelt's releases could fill a blog on its own. In the high quantity of releases he's able to maintain a very high quality standard, making it hard to pinpoint highlights in the continuous stream of new releases.
But there's no doubt 'Piiptsjilling' belongs in the 'Best of Machinefabriek' list!
Piiptsjilling, by the way, is the name of a bird:Wintertaling, or Teal (Anas Crecca), in the Frysk language spoken in Friesland, northern Netherlands.