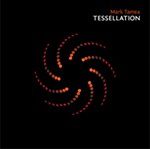 Mark Tamea, an english composer/sound artist living in Nijmegen, Holland, has released some quite adventurous work in the past (of which a lot of information and some free downloads can be found on his website: www.tamea.org).
His latest work, Tessellation, is one of the most intriguing recordings I have heard in the past year.
It combines a lot of different styles: ambient electronic soundscapes, field recordings, musique concrête, post-classical – but still feels organic and complete.