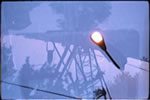 Good news for those of you that are fascinated by the current Buddha Machine hype (like me) : there's a free download available of the album Uhrwerk by Pocka here.
It may not be as layered as Robert Henke's 'Layering Buddha', but the sound of these Buddha Machine interpretations is very comfortable and authentic.
The recognisable Buddha Machine loops are enhanced by subtle bass guitar, piano, guitar pedals and software effects.