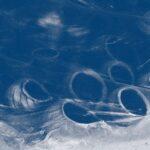 When these two artists collaborate, you know you're in for a strangely wonderful sonic adventure. The opening track, Abyssal Tracker, sets the tone with its dark atmosphere.
The Shell That Speaks The Sea is a result of David Toop's and Lawrence English's shared interest in sounds that evoke emotions and memories rather than facts and events. One example is the sound of the Tawny Frogmouth, a mysterious bird whose call sounds like a low-frequency oscillator that changes pitch.
The compositions started from Lawrence English's collection of (haunting) field recordings, to which they added voice, electronics, guitars, bowing, whistling, percussion, flutes (David Toop) and electronics, shortwave radio, bass drum, ghost flute, bamboo, stones (Lawrence English).
The Chair's Story is a remake of one of the tracks on David Toop's debut album New And Rediscovered Musical Instruments from 1975 (released on Brian Eno's Obscure Records). The chair's voice has aged over the 48 years but the track remains (or even becomes more) intriguing and mysterious.
The Shell That Speaks The Sea defies any standard genre classification because it creates a genre of its own created by Toop and English. It combines elements of electroacoustic soundscapes, musique concrète, and acousmatic music – all of them haunting and 'charged with unexpected dynamics'.
---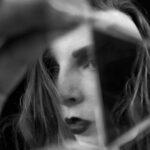 Cruel Diagonals is the alias of multimedia artist Megan Mitchell. She has a classical background and is 'well-versed in jazz standards', but her music here is far from conventional jazz – unless you have a very broad definition of 'jazz'.
Fractured Whole is her fourth full-length album. The eleven tracks are made with only her voice (and electronics), 'chopped up, warped, rendered unrecognizable, ringing out in hymn-like incantations – a powerful exploration of vulnerability and resistance'.
The vocal soundscapes explore various emotions – as the liner notes say, they 'range from the sacred music of Hildegard von Bingen to the satanic masses of Diamanda Galas'.
Those are the two extremes; Mitchell's music is not as frightening as Galas', even though it can be haunting. But it shows the territory that Megan Mitchell covers on this adventurous album.