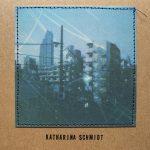 KATHARINA SCHMIDT – PARTICLES
I must admit I had not heard of Katharina Schmidt before. But the Slaapwel Records label is one of the very few that I blindly trust. One of the very few labels that bring out the completist collector in me. So I ordered this CD as soon as it was announced. And I am not disappointed.
Particles is a 57:39 composition that perfectly fits the mission of Slaapwel ('Sleep Well'): 'music to fall asleep to'. The label came to life when the original curator Wim Maesschalk asked musicians to write a sleep-inducing record. 'when he failed to reach the end because he fell asleep, he released it as a musical record'. This remained the basic philosophy for Slaapwel Records, which is currently curated by Stijn Hüwels.

I must immediately add that I did not fall asleep to it, nor did I intend to do so. (Which, in fact, is the same for all of the 16 previous releases). Because it is also a waste of musical notes to do so. This is music to play in the background at a level that suits your needs, where it immediately creates a totally relaxed atmosphere without drawing too much attention. The overall effect is not unlike Brian Eno's generative music projects, but the difference is in the instrumentation: Katharina Schmidt builds it with looping guitar harmonics.
Katharina Schmidt has a history of playing drums and piano in various bands, influenced by indie, experimental and improvised music. 'From sonifications to lullabies, her work is poised between formal experimentation and narratives cued by literature and pop culture, and can be heard in installations, film music, and radiophonic pieces', as well as releases on various labels. She's holding a master's degree in Sound Studies from the Berlin University of the Arts. A versatile artist, obviously, showing her most delicate, introspective side on this release.
---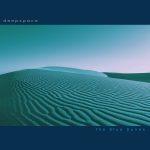 With the act named Deep Space, the Blue Dunes from the title obviously does not refer to any dunes on earth. But not exactly 'deep' space either: after all, Mars is relatively nearby. The Blue Dunes refer to the Odyssey
orbiter's 2021 finding of what first seemed to be blue-colored dunes on Mars.
'Even though the dunes only appeared blue due to false-colour imagery indicating temperature, it was
enough to kindle the desire for such a surreal place.'
Deepspace (Mirko Ruckels from Brisbane, Australia) explores these dunes in seven deeply immersive tracks of various lengths (the last one being a short edit of the 16:25 minute title track).
'Longing, desolate shimmers with glassy luminescence abound, interspersed with soft transient murmurs not quite identifiable — maybe the aural representation of a cluster of strangely-shaped rock, or something unusual on the path into a vast and strange terrain.'
As if the music itself was not enough to express his vision, Ruckels also wrote a short story accompanying each track, which 'could be atmospheric to read while listening to the album.'
This story is included as a 10-page PDF booklet included in the download, which is offered on a Name-Your-Price basis. As if that in itself is not generous enough, the story can also be read here in case you are streaming the album. But I suggest you download it and pay what it's worth to you.
---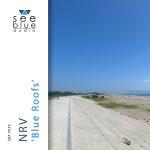 Even more shades of blue on this album Blue Roofs, released on the See Blue (!) Audio label. NRV is the drone/ambient project of Manabu 'Nerve' Ito from Sendai (Japan). During 2020's global lockdown, the 'enforced isolation enabled NRV to take his time in trying out different approaches and musical experiments, which ultimately led to the forging of a new sonic identity'.
In 2011, Sendai was one of the places that were hit by a giant earthquake and tsunami. 'Blue roofs' refers to the many houses that were covered with blue sheets instead of roofs. 'Since then, things have changed rapidly in Japan, but also little by little; even things that look the same as before do not feel the same.'
The second track, Sombra, is based on field recordings made on the tree-lined Jozenji-dori Avenue, one of the most iconic places in Sendai. 'On the day when these recordings were made, the contrast between the shadows of the trees and the blue sky above was a thing of rare beauty, a familiar scene but also fleeting.'
With these two ambient pieces, NRV demonstrates that some landscapes that may be thought of as all too ordinary reveal their beauty only on close inspection. 'Nothing is truly ordinary, and everything has its rightful place in the universe and beyond.'