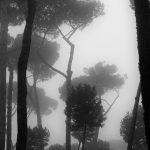 ANDREW HEATH & SIMON MCCORRY – A IS FOR AUTUMN
Perfectly timed release, just at the start of Autumn: this collaboration of Andrew Heath and Simon McCorry, released on Whitelabrecs. On their first (but probably not their last) collaboration, they used a different sound palette for every session, choosing from instruments ranging from cello and modular to piano and guitar.

Both musicians know their way when it comes to using electronics as well as performing on their acoustic instruments. Their experience ensures 'a rich mellowing of landscape' of sound – even if on most of the tracks on this album the acoustic instruments (Heath's piano, McCorry's cello) are barely recognisable in the background, almost hidden behind multiple layers of electronics.
Autumn is, of course, the season of 'a withdrawing into a more intimate space as the year slows and the light levels fall away'. A perfect time to tap into your own memories of this colorful season, listening to A Is For Autumn.
---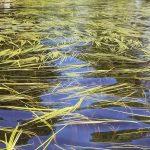 Both Anthéne (Bradley Deschamps from Toronto) and Stijn Hüwels (Belgium) have been featured on various Home Normal releases, but this is their first collaboration.
Together, they present – in the words of no one less than Ian Hawgood himself – 'perfect amalgamation of organic ambient music which the label always hoped to release'.
To be honest I have nothing to add to the description of their layered guitar pieces: 'the album unfolds in its own gentle way, subtlety revealing layers of discreet melodies with the slightest sways of field recordings seeping through.'
Into The Setting Sun was already released in July this year, but (at the time of writing this) there are fortunately still some CDs available.
---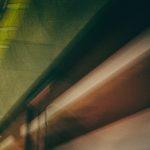 The label is different (Dronarivm), the instrumentation is different, and still, there are certain resemblances in the atmosphere of Elegant, Golden and that of Into The Setting Sun mentioned above. Probably partly due to the organic nature of the music, and probably also partly due to Ian Hawgood's mastering.
Halftribe is the alias of Ryan Bisset, from Manchester, UK. He has released some 10 albums since 2016 on various labels, Sound In Silence, Shimmering Moods and Hidden Vibes among them. This is already his third album for Dronarivm, after For The Summer, Or Forever (2018) and Backwater Revisted (2019).
Not many words are needed to introduce this album: 'Thoughts, memories, feelings and emotions hidden in noise and fragments of sound'.
Released in July, this music perfectly accompanied Summer. So I'm a bit late I'm afraid. But it's still available, and there always be another summer. And besides, warm music like this is also very welcome during a cold winter.