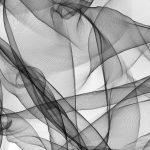 Pruski is Polish artist Paweł Pruski, who uses his last name for his ambient output (or better: 'the more experimental variants of electronic music'), while the Minoo alias is reserved for his more beat-oriented music.
As Pruski, this is his sixth album release (Discogs does not mention Whispers from 2021), and his third for Whitelabrecs.
The intention for this album is clear from its title: this is intended as immersive music. Using field recordings, processed tape sounds, and modular synths, Pruski creates eight Moments.
Like most ambient music, the sound harmonises with a specific space'. But on CD (as opposed to a live set), the 'space' is depending on the place where the music is listened to. And so, 'in this case, the space is changed with the feelings of the moment, for whoever is listening.'
---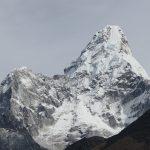 Here's one that slipped through the cracks: it was already released in May this year. Of course, this means the CD is already sold out, but the album is too good not to mention it.

Himalaya is the 6th part of Glåsbird's Sonic Expedition series exploring 'far-flung geographic themes over the course of 10 albums', each of them released on the Whitelabrecs label.

'Himalaya was created as a fictitious film soundtrack, tracking the struggles and triumphs of a climber as they embark on and summit an unspecified mountain' – a mountain on the highest mountain range on earth.
After the two opening tracks the sound changes from ambient electronics to full orchestral, feeling like a (fictitious) film soundtrack as dramatic as the Himalayan peaks themselves. Then, 'the album closes with a descent, as the music gradually softens again but it carries with it, a sense of weary achievement.'
It still remains a mystery who is behind the Glåsbird alias: it is an anonymous project by 'an established artist'. We can only guess, but that 'established' can clearly be heard.
---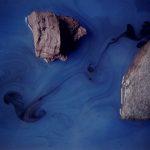 Another release from out of the backlog: Toàn's Phonolite, released on Krysalisound in June.

Toàn is Anthony Elford, a French artist now based in Britain. 'With a wide range of acoustic and electronic instruments, he creates a unique world of colors and shades. His sonic paintings are visual collages of microsounds perfectly arranged and chiselled in a photography of the early twentieth century.'
Phonolite is the third part of a trilogy that started with Histos Lusis (on Eiléan) and Volta No Vento (on IIkki). The title comes from an ancient Greek word meaning 'sounding stone'. A well-chosen title, since organic materials are used to create the bright 'earthly', sound on this album, even when they are accentuated with subtle electronic details. All of the titles refer to various stones and minerals.
The Album is mastered by Francis Gri, who gave Phonolite an amazing 'open' sound where every detail can be heard. Especially recommended to those that love the sound of Francis Gri and Andrew Heath.
Ánd those that love the sound of Toàn, of course!