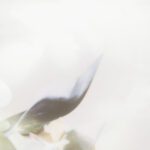 Critical; Mass is a collaboration album of Simon McCorry (UK-based cellist) and Requiem (Washington, DC-based duo Tristan Welch and Douglas Kallmeyer).
The 34-minute album presents three tracks that "swell and sway between ambient, drone, neo-classical, and psychedelic zones for a sound that's always beautiful and ultimately hopeful, yet never afraid to touch the ugly side."
You can simply ignore the semicolon in the titles: Critical; Mass, Unknown; Pleasures, Herd, Immunity, Class; War.

The sound on these tracks is largely electronic but enriched with the acoustic sounds of cello (McCorry), guitar (Welch), and bass (Kallmeyer). It's that combination that gives extra depth to these cinematic soundscapes that serve "as a reflection of the musician's desire for connection amidst an apocalyptic, harrowing, and dramatically hopeful backdrop". 
Critical; Mass is (was) released as a cassette release on Seattle's Hush Hush Records, but that version is sold out by now. But, as usual, it is still available as a digital download.
---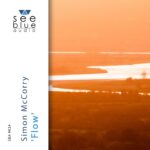 SIMON McCORRY – FLOW
Only a few months after the release of the Critical; Mass collaboration another Simon McCorry solo album is released on the See Blue Audio label: Flow. With as many as five different releases on different labels, 2021 clearly is a fruitful year for McCorry.
On Flow, the "cellist sound-sculptor of ambiguous environments" does exactly that: sculpting ambiguous environments. Five "beatless sonic landscapes, originating from a single improvisation using Eurorack modules, the stems then passed to cassette tape and undergoing further processing to create a degraded feel."
The (11+-minute) opener Flow 01 (deliberately) sounds somewhat insecure: like a reel-to-reel tape with a slightly inconsistent speed. It only adds to the eerie effect inspired by a trip to the Isle of Harris in the Outer Hebrides which inspired McCorry.

The five tracks on Flow "can be experienced as a river that is visited at different locations as it travels along its course". They are predominantly electronic soundscapes: McCorry's cello may be present in here somewhere but if it is, it is hidden deep beneath the layers of sound.