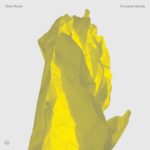 The simple fact that Slow Reels is the name of the duo featuring Ian Hawgood and James Murray should immediately raise your interest.
On Farewell Islands, the two giants of ambient music "combine Hawgood's love of reel-to-reel tape machines and vintage synthesizers with Murray's melodicism and richly textured digital sound design."
Ian used his old ('and sadly dying') Akai to create stuttering and noisy loops, "using older tapes on cracked reels." James added his piano, guitar, and synth to this material – after that the resulting combination was further refined and transferred back to tape.
The result is a remarkable and unique sound, Whereas many ambient artists tend to experiment with emptiness and open spaces in sound, reducing the attention level to the subconscious where possible, Farewell Islands seems to do the opposite: it fills the environment with sound. And not only your room but – this may be a personal experience – also the head. There is no escape – this music needs complete dedication; you cannot play this music in the background and ignore it. Somehow I find it 'intense' in a way that is hard to describe.
But at the same time, this is definitely nót the kind of 'power ambient' noise that must be played loud and experienced physical. Is is much too subtle for that.
"The four cinematic, long-form movements possess a delicate romanticism and emotional urgency that engages and gradually overwhelms the listener."

With Slow Reels, Ian Hawgood and James Murray prove that deterioration and decay can be the foundation of something completely new. Even though this music was conceived long before the current worldwide crisis, there could not have been a better moment to release this album now.
---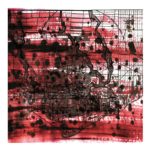 The follow up to their collaboration Invisible Cities (2018) further explores the quiet meditative atmosphere in these five tracks: "from chamber jazz to ambient/drone and back, giving much space and air to breathe to their respective instrument."
The sonorous clarinet from Gareth Davis and its counterpart, the drone electronics created by Aidan Baker melt together into a hauntingly beautiful combination of sound.
When necessary, the two take their time to explore: the opening track Hidden takes up to 14 minutes to evolve. The other (4) tracks are considerably shorter with their 6 to 8 minutes, but no less effective.
Overall, this album is "a sonic scenery of peacefulness and meditative introspection", even in a track that is built upon layers (The Dead) that grow into a rather noisy soundscape.
Both Baker and Davis have an impressive background in (improvised) music, in a very wide musical range. Gareth Davis performed in postrock bands A-Sun Amissa, Oiseaux Tempête and performed with people like Elliott Sharp, Merzbow, Scanner and a lot more. Aidan Baker is part of the due Nadja but has also worked with a large array of different artists (apart from releasing his solo albums).
I cannot claim I know all of their work, but I think I can safely assume that Invisible Cities (I and II) are among the most introspective work for both artists.