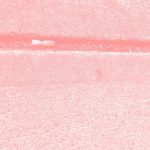 It feels like instruments that are totally opposite: the abstract electronics of 'sonic smudger' Pinkcourtesyphone (a.k.a Richard Chartier) and the soft sounds of the harp played by Gwyneth Wentink. But: opposites attract – and so when the two artists met at a party in 2016 there was an immediate connection that lead to their first collaboration Elision.

When She Had No Mirror… is their second collaboration album, presenting two long tracks, 'formed from pluckings, plastics and particulars […] full of rich chords, lush hues, and enticing flickerings.'

Both artists are 'giants' in their own musical worlds: Richard Chartier is 'one of the key figures in minimalist sound art', publishing his art since 1998 on various labels, as well as performing an presenting sound installations all over the world, and running his Line label since 2000.
Gwyneth Wentink, on the other hand, is an internationally acclaimed harpist performing bot classical and experimental music. She has performed at the world's most prestigious stages and has won numerous prizes for her performances. She is also director and founder of State of the United Arts, a platform that produced Canto Ostinato Audio Visual (Simeon ten Holt's Canto Ostinato is one of my all time favourite compositions).

Two different backgrounds, two worlds that rarely come together. But when open-minded artists find each other, the result can be mesmerizingly beautiful.
---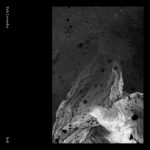 ERIK LEVANDER – INÅT
Swedish 'Inåt' translates as 'Inward', and according to the release notes this can be interpreted on a personal ('drawing inspiration from personal struggles in everyday life'), as well as on a more global level ('point to another layer of context with the ongoing pattern in politics, and of people turning inward, being somewhat inescapable').
Titles like (translated) Unanchored, Trial, Years of Doubt and Gamut of the Void promise an album that sounds as dark as its cover. And indeed it does, the tracks are filled with dense and dramatic synth sounds that can best be played loud. Only at the end of the album Celestografi 'acts as a counterweight, a comparative drift into escapist relief.'
Erik Levander is a Swedish composer that has been releasing music since 2000, developing his own personal brand of 'careful maximalism'. Inåt is his seventh album to date. A 'dynamic speaker filling' album that stands out because of its powerful sound of deconstructed and digitised clarinets, pianos and guitars.
---