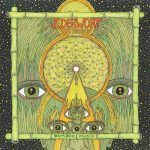 Jacobus (Koos) Derwort was a member of Chi / Chi Factory from the early beginning in the 80's. Chi was, to summarize it in a simple way, the Dutch answer to Jon Hassell's Fourth World Music, and one of the very first acts that experimented with live ambient multimedia performances. Other members of the collective were Hanyo van Oosterom, Michel Banabila, Willem Cramer.
Chi remained fairly 'cult', known only to a few, for a long time, until the Astral Industries label reissued their 'Original Recordings' in 2016, followed by a string of releases from the revived Chi Factory: The Bamboo Recordings, Red Lantern At The Kallikatsou, The Kallikatsou Recordings and The Mantra Recordings.
J. Derwort released a single cassette under his own name: Bamboo (1987), on which 'each track has its own environment and (often) handmade acoustical instrument.'
Koos Derwort passed away on February 11th, 2019 – on the exact day of the release of The Mantra Recordings. Shortly before his death, Hanyo van Oosterom remixed all of the Bamboo tapes he ever recorded (with approval of Derwort himself), also adding some samples of his last live recording in Rotterdam in February 2018.

I'm not familiar with the original cassette: it was hard to find then and probably impossible to find now. So I can't compare the recordings – especially because the sides on this new album are simply called Part One and Part Two, where the original tracks on the cassette each had their own titles. Hanyo Van Oosterom has done a beautiful job mixing the parts into two continuous tracks.

If this is the sound of J.Derwort solo, it's easy to hear why he was such an important member of Chi. The sound is a warm and humid kind of fourth world music, merging ambient, slow tribal rhythms, acoustic instruments and many ethnic references into its own kind of … (I would write 'jazz' here but that would not be the right word). Music with the spirit of Jon Hassell hovering around constantly.
An ultimate relaxing album and a beautiful tribute to the 'soul brother' that was such an important inspiration for the music of Chi and Chi Factory.
---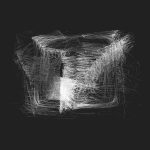 The cello is a popular instrument in ambient/electronic/post-classical music, and Simon McCorry's (third) album demonstrates why. The natural, somewhat melancholic, sound of the cello merges easily with the surrounding soundscapes, filled with "field recordings, loop-based cello compositions and atmospheric improvisations that explore the rich sonic possibilities of the cello through a host of treatments and effect chains."

This does not mean that the different tracks sound alike: there are drones as well as abstract microtonal atmospheres and post-classical works. Ranging from calm introspective to chilling climaxes.
After all, McCorry cites Aphex Twin, Jon Hassell, King Tubby, Lee Perry and György Ligeti as his main inspirations!

McCorry trained in cello at The Centre for Young Musicians & Morley College, but also studied philosophy at Durham University (as can be read in his notes on the title of Border Land on his Bandcamp page). His extensive experience comes from involvement in many theatre, dance and movie productions.
But overall, in his own words, his music is "durational and mostly inward looking, and there seems to be an increasing need and desire for moments of calm in a crazy world that's bombarded with disparate information".