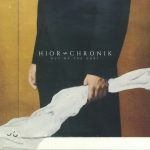 It's been a few years since Unspoken Words and In-Between (with Arovane), and I seem to have missed a few 2016/2017 releases, but the renewed introduction to Hior Chronik (Athens-born but Berlin-based George Papadopoulos) is nothing less than astonishing.
After three solo records and two collaborations with Arovane, Out Of The Dust sounds like the album that could appeal to a large audience (the same audience that appreciates Max Richter et al), "embracing delicate piano themes and dark ambient/drone tones, while at the same time searching for new territories to explore in the neo-classical scene".
"Out Of The Dust" is "a political quote about how we can fight against the crisis, but also against the existential anguish of surviving."  
In this wide-screen  cinematic instrumentation, the trumpet is a distinctive instrument. Used in a restrained way, never too intrusive, it is the element that connects different genres. But it's remarkable that this instrument is mainly used in the first half of the album, which is somewhat dark (though I prefer to call it melancholic – probably depends on your own mood). But gradually there's a shift in atmosphere: the album ends "more open and spacious. It's like a tunnel that I see the light coming closer to me". 
---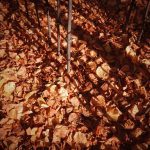 Fifth album under his own name and on his own label Krysalisound. Just like with the music under his earlier moniker (Apart), Francis M. Gri aims at "combining electronic and acoustic sounds in a mix of dream-like images and emotions."
Fall And Flares was recorded in autumn 2016 and is dedicated to the colours, feelings and emotions of that season (as illustrated by the cover picture).
But there's no need to wait for next fall: the music can perfectly be enjoyed in any other season too.
It is a digital-only release by choice: 'for helping to save environmental issues.'
---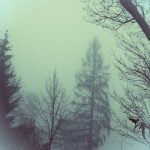 Look at the cover image and check the title: you know you're in for some melancholic moments. A "virtual filmscore for an unfilmed movie or TV Series – provoking pictures of fate and despair".
Polaroid Notes has released quite a few releases under this name, but his personal details remain largely undisclosed. He's Andreas, from Germany ("somewhere between Munich and the Alps"), has DJ-d since the 80's, previously released in different genres, but now focuses on composing gentle piano-based compositions with a "deeply reflective and cinematic sound".
Not just 'solo'-piano, by the way: the piano themes are completed with "analogue and digital equipment, electronics and drone texture."
Misty and lonesome, but never desperate: there's a promise that it won't be long before the fog pulls away and the trees will become green again.