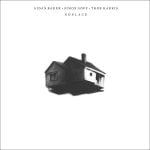 AIDAN BAKER, SIMON GOFF, THOR HARRIS – NOPLACE   
Aidan Baker (guitar), Simon Goff (drums) and Thor Harris (violin) worked together on various occasions and decided to get together in may 2017 in Berlin for some recordings. In a few hours, they recorded their improvised sessions which were then edited and re-worked (but NO overdubs) into Noplace.
It is almost incredible to believe these sessions were improvised, since the trio sounds so tight and balanced. Guitar, violin and (especially) drums are an unusual combination for this kind of atmospheric music, but here the instruments are fully equal: they match and complement each other.
"Kinetic rhythms pulsate throughout whilst the guitar and violin jostle and weave around the metronomic beats, creating a cathartic and all-encompassing experience."
With the pulsing beat and hypnotic rhythm this cannot really be filed under 'ambient' (Gizeh suggests Avant/Krautrock/Improv/Experimental), but with the  sustained drones there definitely is an 'ambient' atmosphere within the compelling rhythms.. a bit in the way Bill Laswell managed to combine ambient drones with fat funk beats.
Baker, Goff & Harris present a sound that is seldom heard – and probably quite overwhelming when experienced live!
---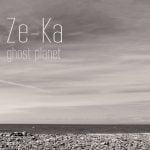 Ghost Planet starts with a deep modular kind of pulsating electronic hum (Fission) so it will take a while before realising that Jean-Philippe Feiss (Ze-Ka) is a french cellist, and that the cello is his main instrument on this album.
But Feiss is also heavily interested in electronic music, which means an album full of interesting explorations of both sounds.
And especially the combination of the two. Check, for instance, the way the cello drone from Gold River transforms into the analog synth sound of (what I assume is) the vintage Korg M10.
Or the other way around: the way the pulsating drone from Landscape morphs into a continuous cello chord. Two different sound worlds, from opposite origins, but a perfect match.
The result clearly more than the sum of its parts!
In the past, Feiss has worked with artists like Richard Bona and Patrick Watson as well as with many artists from the French jazz scene. But this is his first solo release, full of "minimalistic drones, made for thinking and retrospection".
The environment is his musical inspiration – in a broad sense: which means positive connotations (Gold River, which expands over 24 minutes) as well as negative (Fission and Red Forest were inspired by the Tchernobyl disaster).