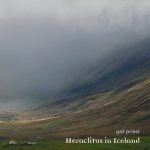 This is my first encounter with Gail Priest, a Sydney based experimental sound artist. But it is not her first work: she has released solo albums on Flaming Pines, Metal Bitch (what's in a name…) – a split LP with Kate Carr among these.
Heraclitus in Iceland is the result of a 2016 residency in Olafsfjordur, Iceland, where 'the ubiquity of water (melted ice) got Gail thinking about the adage "you cannot step twice into the same river", attributed to the 5th Centurt BC philosopher Heraclitus the Obscure'.
Each track on the album is equipped with a Heraclitus quote – thought with many layers that sometimes also refer to the music itself: 'the hidden harmony is better than the obvious', 'it is in changing that things find repose'.
All compositions are based on field recordings from around the small and remote fishing village (click the link to see where the basic sounds for the different tracks were recorded), but by combining them with vocal and instrumental improvisations this is clearly a musical album with the environmental recordings as one of the instruments.
Carefully balanced, original instrumentation and beautiful vocalisations: this album is a refreshing surprise and another proof that Iceland is a huge source of creativity and inspiration for those open to it.
---

OK. Here's the obligatory disclaimer: Eilean Records release + released in september 2017 (while I was on holiday) + waiting on my desk for too long = Sold Out.
(Or maybe not completely: Experimedia (US) or Stashed Goods (UK) still seem to have some in stock!)
But there's still the digital download release (and who knows about possible future re-releases).
So:
Take note of Cicely Irvine's debut album. 44 Minutes of beautifully varied soundscapes recorded between 2007 and 2017 in 'bedroom studios' in Gothenburg and Stockholm.
Created on a rich array of instruments like piano, pump organ (sounds like a church organ – must've been some bedroom!), guitar, glockenspiel, musical box, sansula (= kalimba), saw, melodica, violin, bass, flute, bells, etc. etc.
From engaging musical miniatures to more abstract sketches,  all radiating the kind of warmth and intimacy that somehow is connected to the cold countries of the northern hemisphere.
---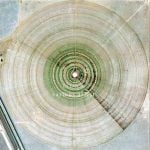 Apart from their stream of quality releases throughout the year, Eilean Records has a great habit to close the year with a compilation filled with all the artists that were featured that year. That in itself is not uncommon, but what makes these compilations so special is that all artists are featured with an exclusive track not on the earlier releases.
The 2017 end-of-year compilation features 21 artists on 16 tracks (70 minutes).
The performing artists this year: Cicely Irvine, Ben Rath, Stijn Hüwels/Danny Clay, Francesco Giannoco/Giulio Aldinucci, Sonmi451, Toàn, Bill Seaman, Monolyth & Cobalt, Daniel W J Mackenzie, Josko/Spheruleus, Monty Adkins, Tatsuro Kojima, 9T Antilope, Sound Meccano/Jura Laiva, Jacek Doroszenko/Josh Mason/Nathan McLaughlin.

To top it off, the CD version (which will probably also be sold out before the release date… we're getting used to that) is packed in a nice metal box and includes a poster and cover art stickers. (Of course (also as usual) there's also a digital download available for those that missed or don't want a physical copy).
Like any compilation album should, this is a good sample of what Eilean Records has to offer. The album presents different musical approaches, but because the label has a  clear aesthetic vision the tracks fit together on the album nicely without becoming too uniform.