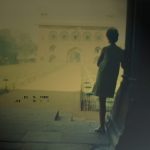 DICTAPHONE – APR 70  
Five years after Poems From A Rooftop (on Sonic Pieces) and even 15/11 years after their initial releases on City Centre Offices, suddenly there's an unexpected new release by Dictaphone (not to be confused with the Dictaphones from the Dale Cooper Quartet).
APR 70 is released by Denovali – who (as the often do) celebrate the new release by also re-releasing the previous titles.
The trio (Oliver Doerell – electronics, bass, guitar, Roger Döring – sax, clarinet and Alex Stolze – violin) have been working three years on this album. Their unique and unclassifiable sound is immediately recognisable: it is the combination of instruments that perfectly matches the genre-defying arrangements. There's a clear jazz-feel, but it is not jazz. And it's the same for 'ambient', or 'experimental', or 'improv'. It is all of that and none of that at the same time: 'Dictaphone always want to create something that was missing before.'
'It feels as if each of the uncountable layers of which the intricate arrangements are made has just the right amount of contrast to be visible, but there are only very few moments where one of the elements noticeably dominates the others. The cool jazz bits, analogue flourishes, hypnotic rhythms and refined electronics feed a dark serpent-like creature meandering in ever-changing morphologies through shapeless landscapes.'
Remarkable sonic poetry – and definitely one of this year's most interesting releases!
---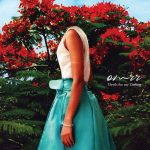 The colourful cover image – by Francisca Pageo – is a promising statement: expect something else, something different from the usual. This is not your average ambient soundscape.
The adventurous Dronarivm label broadens its territories with this release by omrr – the somewhat strange stage name of Omar El Abd from Caïro, Egypt.
Not much is known about omrr, apart from the fact that Eilean Rec released his previous album Music for the Anxious in 2016. Before that there were a few self-released titles in 2014 and 2016.
Combining many different genres into such a bright, light-hearted, mix-up 'based on glitch, noise, micro-sounds, sampling and field-recording' is quite an achievement. Not often is 'experimental' music so 'accessible' at the same time without losing its fresh weirdness.
I'm not familiar with the experimental music scene in Egypt at all, but if omrr's music is representative it's a great start to to dig deeper into that local scene.
---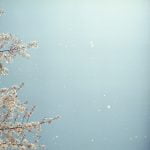 GHOST AND TAPE – VÁR  
In the old 'Norse' language, the word Vár means Spring. Releasing an album with a title like that (and a cover like that) at the end of October accentuates the coldness of the current months but also help us know that we can look forward to another spring coming soon!
Heine Christensen (Ghost And Tape) released his fourth full album (since 2010) on the Home Normal label – a fitting place for his intricate and detailed work.
"Inspired by and a tribute to Nature, in all its wonderful chaos, pure and forceful with mystifying, beautiful patterns".

The description of Nature also neatly fits the music on Vár: as fresh as a new spring. Fragile, but strong at the same time – optimistic about the new start and the promises it hides.