EMANUELE DE RAYMONDI & MARCO MESSINA – SARO  
Saro is a short  (27 minute) soundtrack from a film by  Enrico Maria Artale – a documentary film about "a road trip across Sicily, in search of the father I never met".  
It is only partly a collaborations, since only two of the eight tracks are written by Raymondi and Messina together. Another four are written by Emanuele De Raymondi, and two by Marco Messina.
But their style and orchestration match very well, resulting in a coherent and elegant soundtrack presenting elegant contemporary ensemble music "between minimalistic string arrangements and textural modular synths".
An invitation to check out the film it was written for. But if you can't, just check out this soundtrack.
(BTW – There's something in the opening track – Il Primo Giorno – that immediately reminds me of a chord sequence in Brian Eno's '1/1' (Music for Airports). Just a few notes, barely a few seconds, but it triggers me every time I hear it.
I wonder who else does?)
---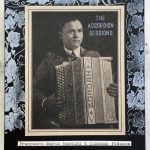 Few will argue that the accordion is a fancy and hip instrument (except perhaps, those who saw Mario Batkovic perform live, or  those familiar with Pauline Oliveiros or Kimmo Pohjonen).
But it is wrong to blame the instrument for the genre it is often used for. On this remarkable release Francesco Maria Narcisi and Giacomo Fidanza help us lose our prejudices, opening our ears to the power of this instrument which is used in a very original way on their "accordion made ambient-electro-acoustic album".
Manipulating its sound and adding field recordings (all done by Narcisi) , you probably won't even recognise the sound of the accordion (played by Fidanza) – but deep in this "glorious and at times even industrially fuelled, expansive wall of aural bliss and intensity" you can hear the very soul of this instrument.
The time  for re-evaluation of its possibilities has definitely come.
Like all releases on Time Released Sound, this album is released in an insane deluxe edition (priced accordingly), as well as in a digipak edition. TRS' Bandcamp page offers the digital edition, too.
---

If I were told that I could use the word 'cinematic' only sparingly, I'd probably reserve one for this release.
Without images, but with a haunting dark soundscape and spoken word fragments, Sleeper's Fate tells the story of a 'comatose man banished to the recesses of his tortured mind':
"The journey begins taking us back to the fateful night of his sentencing. Beyond the halls of beeping machines, whirling sirens echo in the distance. Blackened clouds grumble down a bitter melody of tears upon the streets. A single shot blares between your ears, dropping you to the bed of concrete below. Here we witness the transformation of a once awakened man turned to sleeping prisoner. "
Bruce Moallem's approach is unusual, but effective. The spoken word fragments  (in the first two tracks) enhance the impact of the wide-screen sound production, which in itself gains extra depth from the binaural field recordings used throughout.
He paints a set of extremely dark yet intriguing images: hard to grasp scenes '"from the unconscious mind, once suppressed memories now filtered through the lens of the surreal."